WSS-PONY BRANCH MEETINGS AND EVENTS
NY HARBOR NEWS & NOTES
WHAT'S NEW ON THE WEBSITE
April 2018 edition of the PORTHOLE posted - 6/14/18
2018 PONY Cruise Schedules updated - 6/14/2018
S.S. STAVANGERFJORD 1918 - 1963
(Photograph Theodore W. Scull Collection.)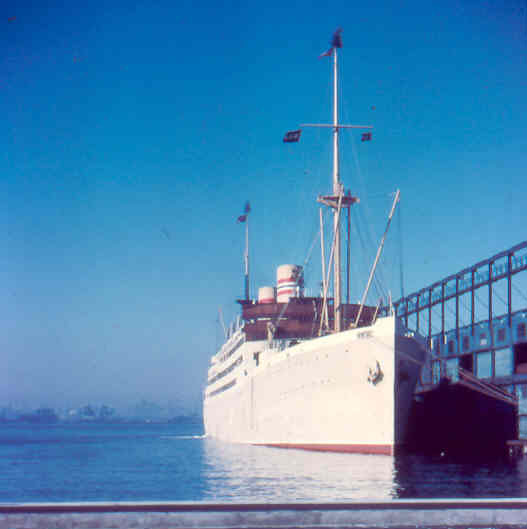 STAVANGERFJORD at Pier 42 North River - December 1963.
On Tuesday December 3, 1963 Norwegian America Line's STAVANGERFJORD sailed from New York City for the last time. She first appeared in the port in May, 1918 and eventually having completed 45 years of service she was, in 1963, the oldest passenger liner in commercial service on the Atlantic. STAVANGERFJORD was bid farewell with a fireboat and tug escort but her sendoff from the port was somewhat subdued as the mourning period for President John F. Kennedy was still in effect.
She was built by Cammell Laird & Company, Birkenhead, England. Completed in April, 1918 as World War I was still raging in Europe, the ship sailed from her builders directly to New York City where she was completed. She sailed on her maiden voyage from New York to Oslo in September, 1918, unique as it was the reverse of the normal first sailing of a European liner. STAVANGERFJORD measured just over 14000 grt in 1963 and her overall length was 553 feet. When new turbine engines were installed in 1931 her speed was 18 knots and she could carry 675 passengers in three classes. Always a very popular ship, by the time she was retired the liner made 770 Atlantic crossings and carried over 500,000 passengers over 2,800,000 miles. This "Dowager of the Atlantic" usually maintained the transatlantic service of Norwegian America Line while her newer running mates spent most of the time on cruises.
Another view of STAVANGERFJORD at Pier 42 North River - December 1963.
(Photograph Theodore W. Scull Collection.)
Although several proposals surfaced about STAVANGERFJORD becoming a maritime museum, a merchant-marine training ship or floating hotel, nothing came of the proposals and she was sold to the ship breakers at Hong Kong. She sailed on her final and longest voyage from Oslo to Hong Kong where she arrived in February 1964.
(Source: "Fifty Famous Liners", F.O.Braynard & W.H.Miller - WW Norton - 1982)
The following photographs are from the collection of branch member finn tornquist who emigrated from norway on Stavangerfjord. The photographs show one of the liner's warm weather departures from New York city as well as mid-ocean scenes on board in the mid-1950's.