WSS-PONY BRANCH MEETINGS AND EVENTS
NY HARBOR NEWS & NOTES
WHAT'S NEW ON THE WEBSITE
PONY Cruise schedule updated 10/14/19
Summer 2019 edition of the PORTHOLE posted - 10/14/19
MARITIME NEW YORK compendium of lectures, exhibits, tours and transportation around the Port of New York updated - 10/14/2019
Queen Elizabeth 2 ~ Transatlantic Crossing Blog

by Ted Scull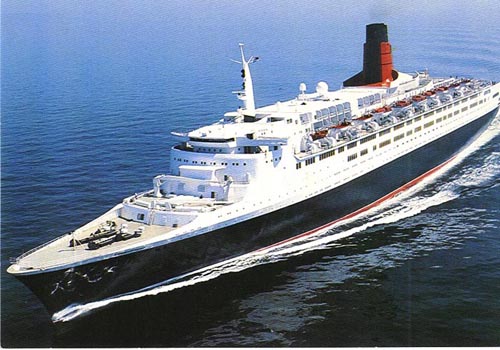 Friday, October 10 ~ Day 1 ~ Preamble and Embarkation
On Friday morning we had a train to catch from Waterloo at 11:39am, and believe it or not we awoke at 9:55am at our friend's flat in Lambeth. They had gone out to work, so we had a bit of a scramble and then one returned at the last minute to drive us to Waterloo where we had expected to arrive on foot, or in this case on the run. With Megatrain reservations, we had two tickets at 6 pounds each, vs 28 each for the single journey to Southampton Central. We asked the guard and he directed us to the second coach marked Megatrain.
On the train, a guard came through and saw our piece of paper then went on. When he came back through the carriage, I wanted to ask him a question. He said, "Do I know anything about football," and assuming he meant English rules, I said "No." then he looked at my piece of print out, and he remarked, "You don't know any about tickets either. You are on the wrong train!"
Rather stunned, he said that I was lucky a revenue man had not come through because I would be charged a 50 plus pound penalty. None did, so we relaxed, sort of.
Across the way sat a Frenchman who seemed wanting to talk, and when he learned we were headed for the Queen Elizabeth 2, he said he was also. Continuing on, I learned that he had been one of the last Assistant Pursers on the SS France and had been on my crossing in August 1973. He showed me a couple of photos he carried and there was one handsome French officer. Before CGT, he had worked for Messageries Martimes on the East African-Madagascar ships (Pierre Loti, etc.) and the white ships (Cambodge, Laos, Vietnam) so we had the Laos in common too.
At Southampton Central, the gate attendant saw our piece of paper and said, "You did not come on a Megatrain; that arrives at 1315". I said the carriage we rode said Megatrain and replied that it was an old sticker. He said that I should be charged 50 pounds penalty but it looks like you were directed to the wrong train so he let us through the barrier. Whew! Apparently we had boarded the fast 11:35am and should have boarded the 11:39am stopping train. We shared a taxi with the former CGT purser and arrived at the QEII Terminal in about ten minutes, finding very short queues for both the regular check-in and Priority. David Hume and Marjorieann were just ahead of us, and friend Paul Klee was just behind. Paul and I met on the Flandre westbound to New York in August 1958.
We boarded without a wait as we had Diamond status, while the lounge was full with those waiting to be called. We had our photos taken and intend to buy one as this crossing is the last westbound.
A Hungarian stewardess took us down one deck and forward to the last cabin (3036)on the port side before walking through the door that had separated First from Tourist. It was a two-bedded outside where the twins cannot be moved, a vanity under a single porthole, one chair, two wardrobes and a tub bath with a step up - and lots of wood paneling. The Filipino steward Alfredo could not have been more welcoming.
We then climbed to the Queens Room and found a table for tea, and it was now about 2:10pm. Before we knew it, the group swelled to eight and a dozen others I knew came by to say hello. With a pianist playing, it was ever so QE2.
I stopped by the Cruise Director's office to get my schedule and let them know what I needed in the theater. Did I need a transfer to the airport? No, I could walk home across The Park if I had to! - and have many times. I am still giving slide lecturers though this will be the last and final time on any ship as Cunard has asked me to convert to PowerPoint for 2009.
Lifeboat drill came at 4:15pm, and with that out of the way, it was time to sail. P&O Ventura was to leave first from Berth 105/106, and a bit tardy, we would sail at 5:20. Her ugliness sails past with a litte whelp as a signal and we boomed back in reply. Her decks were jammed with onlookers, and they had the better view.
It was a sunny evening as the tug pulled us away from the QEII Terminal with Queen Mary 2 closing in behind. She hooted weakly and we responded with even a longer deep throat, a bit embarrasing for the larger, newer one. The shoreline at Hythe was packed and so was the Hythe Pier with the little electric train going off to the town and back.
At Fawley oil refinery, five tankers (mostly small) were tied up then as we began the dog leg at Calshot Spit, we boomed out again, and with the turn, we got a good broadside of Queen Mary 2. I stayed on deck with a small group I knew until we passed Ryde Pier.
We went inside to the Logo Shop as it seemed quickly busy, and we did not want to lose out on any thing in short supply. We managed to spend a bit with a commemorative plate, nice jacket, pull over and a few souvenirs.
It is so-called semi-formal tonight, and our table met at 8pm, located on the port side, in the aft pocket near the window. Suellyn, my wife, seemed please with the location, so we were off to a good start. The Welcome Dinner menu was a keeper, with a large black and white photo of the ship when new and some potted history on the inside front cover. It was a set menu with a choice of two entrees, so a standard menu was also presented. Dinner was just fine and more about that aspect at a later time. We had a little box to hold our menus sent to the cabin, using the 1957 print of the fleet, minus Scythia in the upper left hand corner and with QE2 added, looking a bit high and narrow. A Farewell Season pin was also placed by our bedside.
We joined two New Zealanders I knew in the Chart Room for an hour, and talked about the Union of NZ and Trans-Tasman ships. Then about midnight, Sulleyn and I took a walk on deck and called it a day, with the clock retarded by one hour. P&O Ventura had been alongside us in the Channel at first and Queen Mary 2 was some distance to the North.
Saturday, October 11 ~ Day 2 ~ At Sea
We rose and fell during the night with a bit of a swell, then were up for breakfast in the cabin at 9am to meet a hazy gray day. Queen Mary 2 was on our starboard side. Bill Miller gave a lecture "Floating Palaces" at 11:15am to a full house. His microphone got cut at noon for the bridge announcement so he had to continue without one for another ten minutes but everyone could hear him, and the captain.
The day gradually cleared into a sparkling autumn day with the sun shining on our tandem crosser. She looked quite stunning and very definitely a charcoal gray,rising and falling to the swell. Lots were on deck with cameras. Lunch in Caronia then down to Two Deck forward to write this up.
The light was so beautiful yesterday afternoon that QM2's 'black' hull showed its true shade of charcoal gray. We stayed absolutely opposite each other all day. Then as the lights came on she was even lovelier against the remaining light in the sky, and the hull lights became more distinct. When darkness truly fell, the forward lights were switched off so as not to blind the officers on the bridge, and a black patch appeared where the forward part of the superstructure and the bow had been. She did not look whole.
It's all very social with so many people I know aboard, and there are too many invitations to accept them all. After dinner, the Black and White Ball drew a large turnout, and the Queens Room was very festive with so many people dancing.
Sunday, October 12 ~ Day 3 ~ At Sea
Early on Sunday morning, we stayed our course and Queen Mary 2 took a sharp turn to port and passed under our stern to position itself on the port side, even closer than yesterday. The day went from sleet in the air to cloudy to another beautiful crisp almost wintry day. Lots of people are out with long telephoto lenses, tripods and right down to snap and shoot throwaway cameras. Everyone seems quite happy, and I continue to be amazed how many folks have not been on the ship before or many have sailed once or twice. I guess they want to be part of history.
The Interdenominational church service packed out the theater, and everyone seemed to delight in singing the hymns, including some of my favorite such as "Eternal Father Strong to Save...For Those in Peril on the Sea." But, of course, WE are not. Captain Ian McNaught took the service and stayed at the door to shake everyone's hand as did some of the officers.
We had a quick lunch in the Pavilion so I could prepare for the afternoon lecture at 2:30pm. I like to take brisk walks on deck before speaking; it clears the brain and stimulates my thought process. The talk - A Tribute to the Queen Elizabeth 2 - drew a standing room only crowd with some sitting on the steps in the balcony. I heard later that Captain McNaught came to the lecture, the first time a captain has attended as far as I know. Most catch glimpses on the closed circuit TV.
Monday, October 13 ~ Day 4 ~ At Sea
It was an early start this morning with the Blog to write and a lecture at 10am on the clock, though happily sort of 11am with clocks retarded. I had breakfast in the Pavilion looking aft to an amazing sky, a very dark vertical cloud astern and to the left a narrow band of bright light under a heavy overcast. As we stayed the course, Queen Mary 2 shifted across our bow to end up back on the starboard side for the day. 10am arrived and the theater filled to capacity again in spite of the early hour. I presented some personal experiences on transatlantic liners between 1958 and 1969, traveling in tourist, cabin and first and under British (Queen Elizabeth), French (Liberte, Flandre, France), Italian (Cristoforo Colombo), and Dutch (Rotterdam) flags.
Then before lunch an amazing rainbow appeared on the horizon arcing partially then completely over Queen Mary 2. She was just to left of center and as the colors brightened they came closer until the rainbow's outer limits seemed virtually alongside our ship. I have never seen anything like it before and the four main colors were so vibrant. We were all mesmerized. I hope to post some photos when back in New York.
In the afternoon, Doug Ward got Bill Miller, Gary Buchanan (UK writer), Michael Gallagher (UK PR) and me together to have an informal meeting with all ship enthusiasts in the Chart Room. About 100 showed and we answered questions about QE2, our thoughts about the ship, its final destination, Cunard's future and some general cruise questions. There was a lot of interest and give and take. There is no question that the QE2 engenders a lot of passion, and many were unhappy about most of the Heritage Trail going to Dubai. My response was that the powers to be at Dubai wanted an instant package that contained all, or most all, of the most famous ship in the world. And Carnival Corp., for the money they were offered, was happy to oblige.
The famous painting of the Mauretania of 1907 sailing down the Tyne has been removed and returned to Newcastle as that is not owned by Cunard, and temporarily in its place, is a QE2 painting by Robert Lloyd. If anything else of importance is on the list, I will post here.
I have a feeling that the mood aboard is going to change tomorrow when those of us who are making our last sailing in the ship will begin to realize that the end is now only two full days away.
According to reliable sources, not much will happen in New York for the arrival, and the departure will not have any fireworks but then we have had them before. There is a big luncheon on board during the turnaround and then at sailing time, a rendezvous off the Statue of Liberty.
Tuesday, October 14 ~ Day 5 ~ At Sea
We awoke to find Queen Mary 2 outside the porthole (port side) on a crisp wintry day having passed under the stern at 7am. After breakfast I began photographing the ship in earnest and lots of others were doing the same. I began to feel the anxiety about the end in my chest this morning. As I have a story to write for a national publication, I have been collecting people reactions which I shall share after I get home. I want to be able to include the most poignant ones.
I have the passenger nationality figures and they are: 749 UK; 575 US; 143 German; 73 Australia; 40 Japan; 39 Canada; 22 France and 18 other natioanlities for a total of 1697. Some crewmembers still do not know where they will be going after the QE2 is retired. Some of the British and European staff are being told, the new terms will be 6 months on/6 weeks off instead of 3 months on/1 month off. With these terms, some have said they are leaving.
Captain McNaught offered to sign any purchased memorabilia beginning at 2:30pm. By 2:15 the queue had formed from the desk outside the library and along past the Mauretania and Caronia models to past the Chart Room. The queue would be shut down at 4pm. He signed the last item at 5:55pm.
In spite of the numbers at the signing, I still had a full house at 2:30, so nearly all the passengers must have been in two places only. The topic was Monuments of the Metropolis from the Battery to the Bronx, of interest to those staying on in New York City.
While standing on the observation deck this morning, a French woman came up and asked if we would be seeing any whales. I replied that this was the best time as we were now off Newfoundland. One minute later, a whale surfaced not far from the ship's starboard side and sent his tail skyward. She was thrilled and asked me if I had pushed a button! Another surfaced dead ahead and two port on the port quarter. Later a Canadian aircraft buzzed the two ships. I cannot identify it just now but will ask the captain tonight as we have an invitation to his quarters before dinner. Now just two nights and one day to go. Cosmetically, the ship looks wonderful inside and out. I know there are some problems behind the scenes and there is some talk of some skimping on maintenance but it is not apparent to any passengers or friends that I know. Quite a number booked this trip, having never been on the ship, and in a few cases on any ship. They are thrilled.
The dinner menus are collectors' items with a fresh cover every night - The Queen: the ship under construction; that QE2 wet noodle in red that appeared at the very beginning. I cannot depict it here.
Wednesday, October 15 ~ Day 6 ~ At Sea
I had an interview with Captain McNaught this morning at 9am, and he said that he and a skelelton crew of about 150 will stay on after the arrival in Dubai, probably about a week to ten days to get the ship ready to be handed over to a management company. The official hand-over, lowering and raising of the flags will take place at 2pm on the day after the arrival on the 26th. The passengers will disembark that morning.
He will join Queen Victoria at the end of March sharing the ship with Nick Bates. Commodore Warner and Paul Wright will share Queen Mary 2. My final lecture ever on QE2 was on the Port of New York at 10am, and I am afraid that I got choked up at the end when I showed an earlier last slide of QE2 leaving New York at sunset and then thanked everyone for showing so much interest in the talks.
In the afternoon at 4:30 P.M., the two ships closed in on each other to a distance of three cables (you will have to look that measurement up) and we exchanged cheers from the higher decks (we were that close) plus a lot of hooting. Then QE2 fell in behind QM2 with the separation eventually becoming two miles.
The timing for tomorrow is QM2 3:45am at Ambrose; QE2 4am then QE2 4:45 at the Verrazano Bridge; 5am at the Statue; 5:15 off the Battery and 6am alongside. Self-help disembarkation is between 6:30am-7am. I will try to post something of the arrival, the luncheon on board and the departure later on Thursday evening. Time is short so I have to call it a day.
Ted at sea aboard Queen Elizabeth 2
Thursday, October 16 ~ Day 7 ~ New York Arrival
I was up at 3:45am and on the bridge at 4:15. We had picked up the Sandy Hook pilot on time at 4am and were two miles behind Queen Mary 2. After the dog leg, we closed in on her stern as she slowed to six knots to pass under the Verrazano-Narrows Bridge. I began the commentary to all the open decks at 4:45 and hundreds were on the observation deck and the Boat Deck below. Sea Marshals and New York City Police Department officers roamed the bridge and its wings and the passenger accommodations. U.S. Coast Guard boats, identified by their blue lights, escorted both ships.
Virtually opposite the Statue, we passed close to Queen Mary 2 as she began her turn toward Red Hook where she would make a 180-degree turn to then reverse into the berth. We continued on up the North River, and the original berth, the south side of Pier 92 was happily changed to the north side of 90, a newly renovated pier. Pier 92 is to be taken out of cruise service and matched with 94 to create a larger convention and show facility. That will leave three berths in Manhattan, both sides of 88 with new apronsand the north side of 90 with no apron.
The turn into the slip was quite easy with one tug at the bow and two on the stern. We were alongside just after 6am and fully tied up by 6:15. The self-help disembarkation started at 6:45 and we cleared customs and immigration, left the pier, walked across 12th Avenue, then caught a cab at 49th Street and 11th Avenue. I dropped Suellyn at Trinity School on the Upper West Side and was home on the East Side by 7:25.
By 10:30 I was out the door to walk across The Park for a Cunard-hosted lunch with drinks and speeches in the Yacht Club. Mayor Bloomberg regretted the day before and the main speakers were the British Ambassador, Consul General, Commodore Warner and Captain Ian McNaught. The last two had something significant to say about the ship and Captain McNaught related a couple of good stories. Lunch followed in the Caronia Restaurant. Embarkation for the last sailing from New York had begun and a number of friends arrived who were sailing.
By 3:30, a small group left the ship, walked down to the New York Waterway terminal at West 39th Street, and joined 200 for a three-plus hour charterd ferry farewell to QE2. She reversed into the North River at 5:15, and we followed her down to a rendez-vous with QM2 standing off the Battery. The sky behind the ships was a stormy yellow and the water reflected a steely gray. The Waterway captain took our suggestions and we were all able to get some splendid photos from virtually every angle. New York City fireboat Firefighter spewed blue and white water and a navy gray tug another stream. There were a number of chartered excursion boats, small yachts and Moran tugs. With a lot of whistle blowing QE2 led QM2 through the Upper Bay, under the Verrazano Bridge and out of sight.
It will likely be the last time I will ever see the ship, as from what I am hearing about the radical plans for her makeover in Dubai, I do not think I would want to see her again in such an altered state.
Thus ends some 35 voyages, including 30 transatlantic crossings over a period of 39 years, beginning with a first eastbound sailing on June 19, 1969. QE2 will be sorely missed.
Addenda: The Canadian aircraft that buzzed the ship on Day 5 was out searching for illegal fishing boats in Canadian waters, and she came to us to have a look. The crew took some photos that were later sent to the ship.
A cable equals one-tenth of a mile, so three cables is three-tenths and that is how close the two ships came to each other on Day 6.
Ted now back in NYC