WSS-PONY BRANCH MEETINGS AND EVENTS
NY HARBOR NEWS & NOTES
WHAT'S NEW ON THE WEBSITE
Summer 2018 edition of the PORTHOLE posted - 10/21/18

New

 MARITIME NEW YORK compendium of lectures, exhibits, tours and transportation around the Port of New York updated- 9/25/2018
2018 PONY Cruise Schedule updated - 11/06/2018 (October sailings updated)
Ship Sightings in the Port of New York ~ 50 Years Ago ~
A Photo Essay By John McFarlane
On Friday, November 28, 1952, the day after Thanksgiving Day, the author, camera in hand, traveled around the Port of New York with hopes of capturing images of many of the ships that were in the harbor at that time. The overall journey took up most of the day and required not only visiting the famous piers of "Luxury Liner Row" in Manhattan but also completing several ferryboat rides to and from Hoboken, NJ and Staten Island. These journeys were made at this time because some of the older liners that were still in commercial service and were calling at New York were nearing the end of their careers.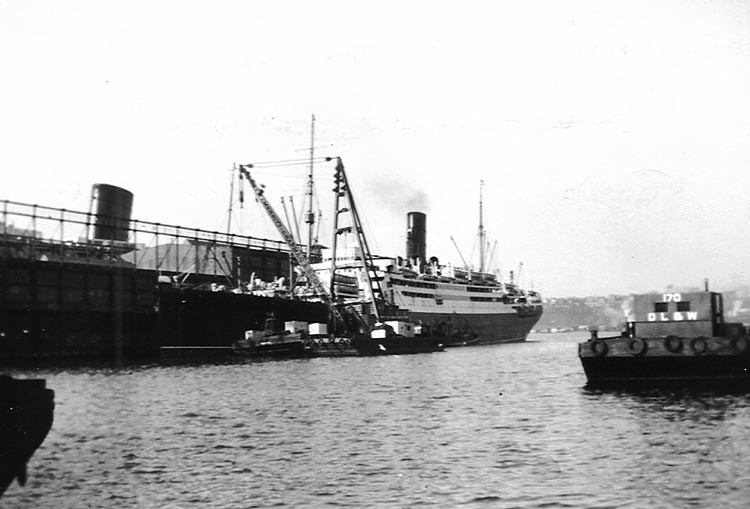 Cunard Line's FRANCONIA docked at Pier 90 NR. A large floating crane can be seen working heavy lifts near one of the forward hatches.
Early in the day, the first ship that was encountered was the FRANCONIA of Cunard Line docked on the north side of Pier 90 North River. She was making her first wintertime call of the year at the port having arrived from Liverpool via Halifax. The ship was built at John Brown & Co., Ltd., Clydebank, Scotland in 1923 and was the sistership of CARINTHIA and one of twelve somewhat similar ships constructed for Cunard's Europe/North American services to replace ships lost during World War I. FRANCONIA of 20175 grt and 625 feet in length was one of only four of these ships to return to Cunard service after World War II. At this point in her career FRANCONIA had a passenger capacity of 850 in two classes and the twin screw liner could travel at 16.5 knots.Cunard withdrew the ship from service in 1956 and she was scrapped in the U.K. shortly thereafter.
The next ship strained the resources of the box camera and two separate photos were taken. Rounding the pierhead and walking to the southside of Pier 90 one came upon the sight of the largest ocean liner in the world. RMS QUEEN ELIZABETH was docked on the south side of Pier 90 NR and had just finished refueling in preparation for her sailing later in the day. She was 83673 grt with an overall length of 1031 feet and could carry 2263 passengers across the Atlantic at over 28 knots speed. Built in Scotland in 1940, the liner sailed on a secret voyage from Scotland to New York in March of that year in order to evade the Nazi U-boats and aircraft that were hoping to sink her. She entered Cunard commercial service for the first time in 1946. This famous ship sailed on until October 1968 when she was given a great send off from the port of New York on her final sailing. QUEEN ELIZABETH, while being converted to a seagoing university, was destroyed by fire at Hong Kong in January 1972.
Pier 86 North River, located at West 46th Street in Manhattan was where SS UNITED STATES and SS AMERICA docked. AMERICA was in port and loading cargo and stores in preparation for sailing the following day for Cobh, Ireland; Le Havre, France; Southampton, England and Bremerhaven, West Germany. She was built in 1940 and was 33532 grt and 723 feet in length. She could carry over 1000 passengers at 22 knots speed and was a very popular ship. After 1964 she passed through several different owners and was eventually wrecked in the Canary Islands while under tow.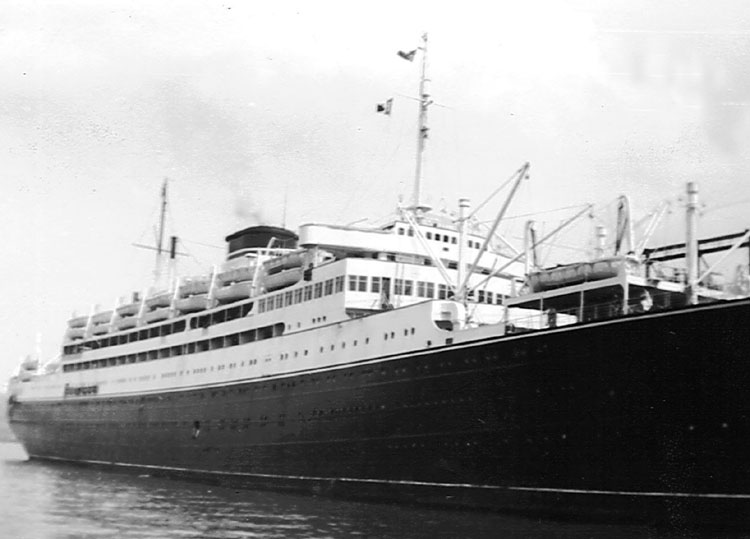 MV VULCANIA of Italian Line docked at Pier 84 NR.
The final passenger liner encountered at the luxury liner piers at that time was MV VULCANIA. Built in 1928, she was in regular service between New York and Trieste, Italy also calling at Naples and Genoa among other ports in the Mediterranean. Of 24496 grt and 631 feet in length she could carry 1452 passengers at 19 knots speed. She was sold by the line and became CARIBIA and was scrapped in 1974.
Just south of the liner piers was the berths of the Hudson river Dayliners. During the Spring and Summer months these ships would sail up the Hudson to West Point and Albany. At this time they were in winter layup. In those days 12th Avenue which ran north and south along the river also had the West Side Highway elevated above the street. The street level roadway itself was still made up of cobblestones from the days of horse drawn carriages.
One had to be careful when walking on the cobblestone roadway while at the same time dodging trucks and railroad cars that were moving back and forth across 12th Avenue.
The next part of this day of ship sighting required getting to the ferry that crossed the Hudson River from Manhattan to Hoboken. The ferry ride would take me to what would be my first visit to that city. With a few rolls of Kodak 120 film in my pocket and enough change to pay for the ferry rides I took off for lower Manhattan and the Lackawana ferry terminal at Barclay Street. All the photographs in this essay were taken by the author using a Kodak "Brownie" box camera and the 120 Kodak film. This type of camera did not really have a lens nor any way of adjusting for various lighting situations. In certain situations not all of the ship being photographed could be included in the shot as a "wide angle" arrangement was out of the question. The author, age sixteen, is shown on the left, in the background is one of the giant piers along "Luxury Liner Row", a warship in one of the berths. On the right is a photo of the "Brownie" box camera used to capture the images in this essay.
HOBOKEN, NEW JERSEY
Shortly after leaving the terminal and starting to cross the river the Hoboken ferry passed an old coastal passenger ship laidup, out of service, at Pier 18 NR. SS EVANGELINE was backed into the berth and her funnel was covered with canvas to protect her engines from the elements. She had not sailed in the coastal service for many years and was sold in 1954 for cruising from Florida to The Bahamas.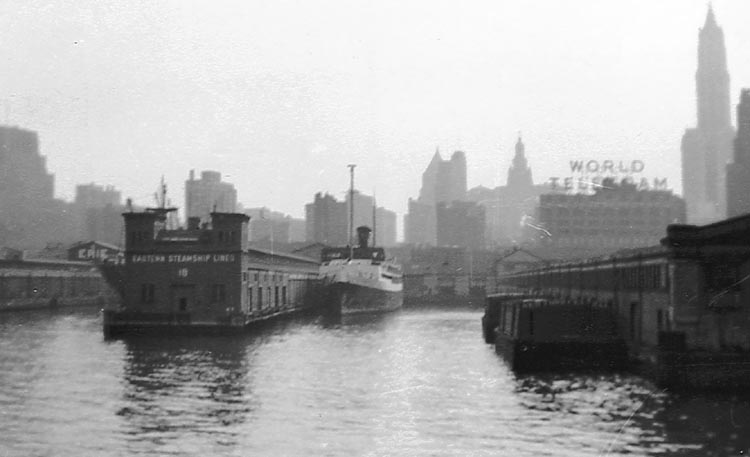 SS EVANGELINE at Pier 18 NR.
This ship was built in Philadelphia in 1927 for the Eastern Steamship Company services along the U.S. East Coast. She could carry 751 passengers at 18 knots speed and was of 5043 grt and 378 feet in length. She ended her days as YARMOUTH CASTLE by burning near Florida with the loss of 89 lives in 1965.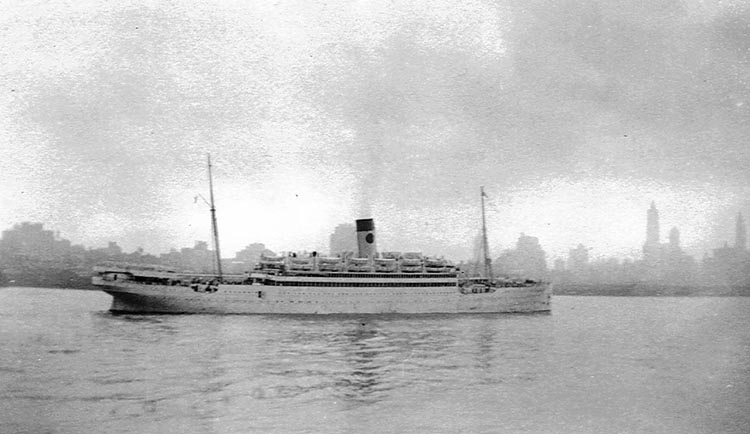 \SS HOMELAND of the Home Lines sailing for Genoa and Naples.
As the ferry neared the Hoboken terminal a considerably older classic liner came down the river on her way to Europe. SS HOMELAND of the Home Lines was enroute to Genoa and Naples, Italy with a full capacity of 942 passengers on board. Approximately one half hour earlier this 10043 grt, 538 foot liner had sailed from Pier 95 NR. While HOMELAND was docked there she was mostly hidden from view and couldn't be photographed from the street. This triple screw liner was built in Scotland in 1905 as the VIRGINIAN for Allan line and was one of the ships in contact with TITANIC when that ship was on her fateful maiden voyage in April 1912. Here was a liner that, in 1905, was one of the first turbine driven liners on the North Atlantic, still in service after almost 50 years. HOMELAND had also served Swedish American Line for many years as DROTTNINGHOLM and now would last a bit more than 2 years before being scrapped in 1955.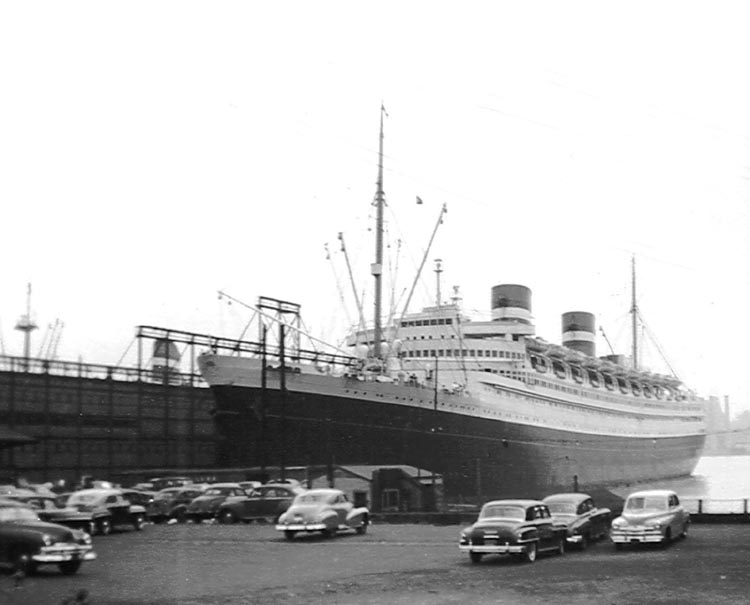 The Holland-America piers in Hoboken with NIEUW AMSTERDAM and MAASDAM at their berths.
The piers at 5th and 6th Streets in Hoboken were the western hub of the Trans-atlantic services of Holland-America Line since the late Nineteenth Century. The flagship of this line, in 1952, was the beautiful 36667 grt, 758 foot long, NIEUW AMSTERDAM, the largest ship in the Dutch merchant marine. I had my first view of this liner when I disembarked from the ferry in Hoboken and walked several blocks north and rounded the corner near the piers. NIEUW AMSTERDAM was preparing for a return voyage to Rotterdam via Le Havre and Southampton. The Holland-America flagship was built in 1938 and remained with the line until she was retired and eventually scrapped in March 1974.
An added bonus, this day, was the new MAASDAM docked on the north side of the same pier. MAASDAM arrived in New York harbor on her maiden voyage from Rotterdam via Le Havre, Southampton and Montreal only a few months before and was still a novelty on the North Atlantic. Her passenger capacity of 875 was given over almost entirely to Tourist class. MAASDAM and her sistership, RYNDAM were 15000 grt liners of 503 feet in length and each had only 39 First Class berths. She remained in the Rotterdam - New York service until 1968 when she was sold to Gydnia-America Line and renamed STEFAN BATORY. The photos at left and right are an example of the way the small box camera had to be maneuvered in order to include the entire liner in two separate images.
A classic Holland-America liner nearing the end of her sailing days was the venerable VEENDAM of 1923. Built in Govan, Scotland, by Harland and Wolff Ltd, this 15652 grt, steam turbine, liner contributed many years of service to the line. Less than a year after these photographs were taken VEENDAM, manned by a skeleton crew, sailed from Hoboken to Baltimore where she was broken up at the Bethlehem Steel-Fairfield shipyard in Maryland. Access to the viewing area for ships docked on the north side of Hoboken's 5th Street pier was very limited. These photographs are another example of attempting to photograph ships in close quarters without the advantages of a wide angle lens. The barges loaded with export cargo in the foreground were awaiting the next ship.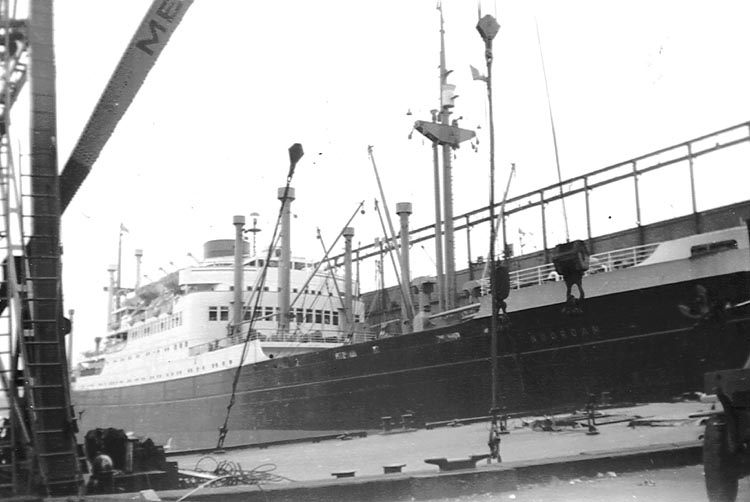 The combination passenger-cargo liner NOORDAM at Hoboken
The next ship at Hoboken was the 10700 grt NOORDAM, a ship capable of carrying 148 First Class passengers as well as vast loads of cargo in her six holds. This combo-liner was responsible for many of the shipments of tulip bulbs, cheese and beer that were transported from Holland to the U.S. East Coast in those days. NOORDAM had entered service in September 1938 and later served as a troopship on lease to the United States, capable of carrying over 2000 troops. After the war she sailed between Rotterdam and U.S. East Coast ports with her somewhat larger runningmate WESTERDAM. NOORDAM was sold by the line in 1963 and scrapped in 1967.
There was one more older classic liner in the port at this time but I would have to return to Manhattan on the ferry and make my way south to the Staten Island ferry terminal at the foot of Whitehall Street.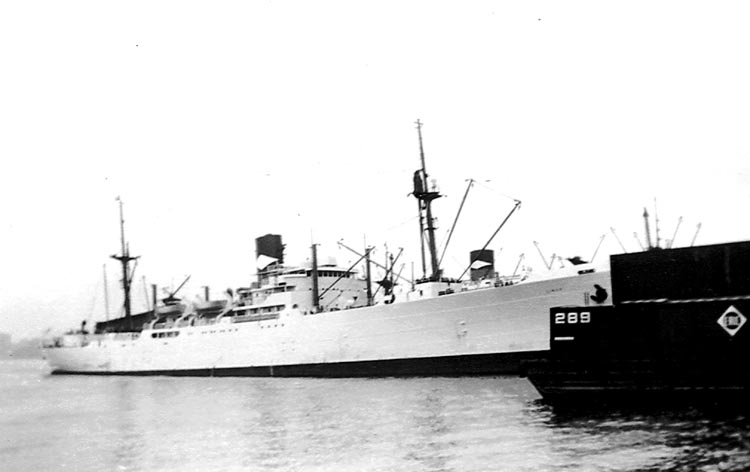 SS LIMON of the United Fruit Company docked at Pier 3 NR.
Enroute to the Staten Island ferry I passed several piers operated by United Fruit Company, ("The Great White Fleet"), where several of their "banana boats" would often be berthed. On this day the SS LIMON, was in the south berth of Pier 3. She was a true cargo ship with a large capacity of refrigerated space for the carraige of perishable cargoes from Central America to the U.S. East Coast. Built in 1945, she measured 7075 grt and was a steam turbine driven, twin screw ship and could attain a speed of 18.5 knots.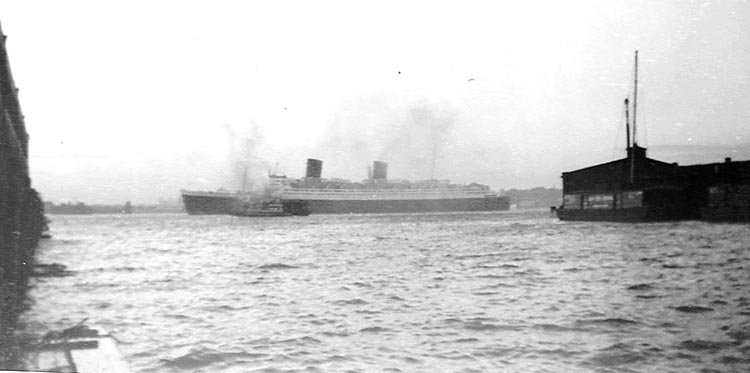 RMS QUEEN ELIZABETH departing from for Cherbourg and Southampton sails passed lower Manhattan.
Sailing down the river was RMS QUEEN ELIZABETH, a liner that I saw earlier at Pier 90 NR when she had completed refueling and was preparing to sail back to Europe. I now made my way to the ferry that would take me to Staten Island but a bit later than I had planned therefore I was unable to catch up with the great Cunarder before she sailed through the narrows and out into the Atlantic.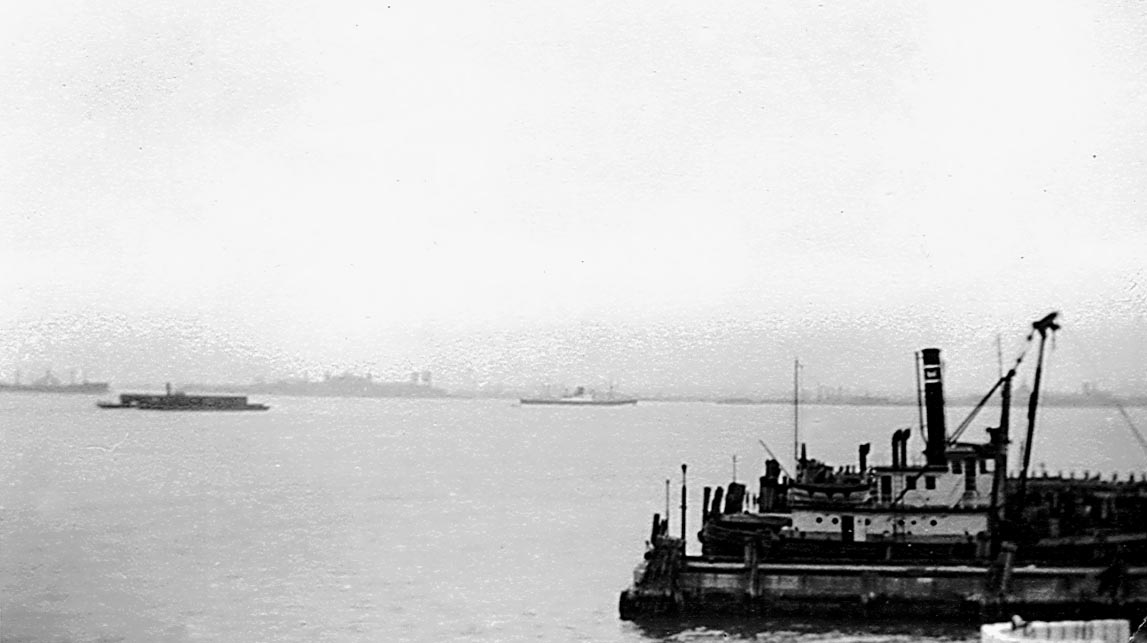 Viewed from the departing ferry, FORT AVALON of Furness Withy and an American President Line cargoship sail into New York Harbor
As the Staten Island ferry was departing from the Whitehall Street Terminal the harbor activity included several ships arriving in the port. Furness Withy's, 1949 built, FORT AVALON, a small cargoship of 3484 grt arrived from the Canadian Maritimes and behind her was an American President Line freighter.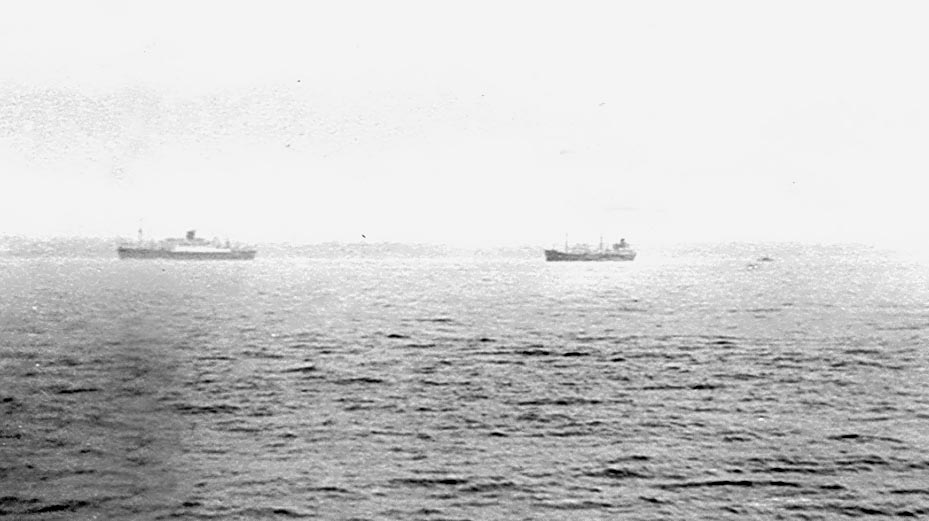 Cunard Line's PARTHIA sails into New York, an unidentified tanker is behind her.
As the ferry sailed across the harbor we encountered Cunard's PARTHIA arriving late from Norfolk, Virginia where she loaded tobacco and general cargo for discharge at Liverpool. PARTHIA was built in 1948 by Harland and Wolff Ltd., Belfast and with her running mate MEDIA was a mainstay of the Cunard service between Liverpool and the U.S. East Coast. These ships of 13362 grt and 531 feet in length carried large amounts of general cargo as well as having space for 250 First Class passengers.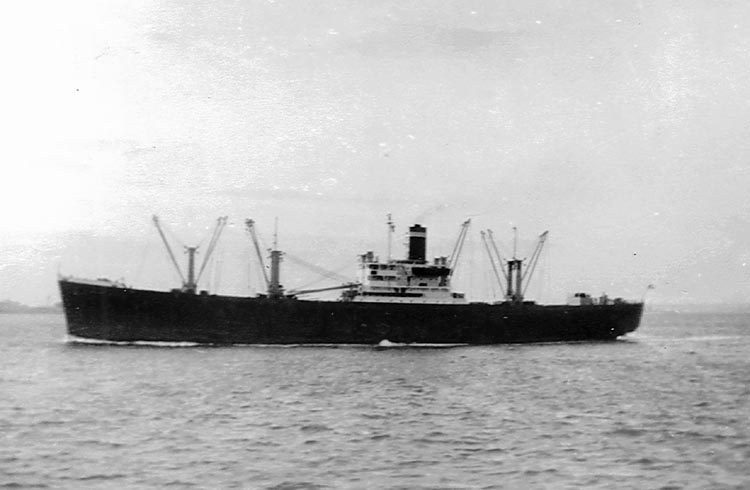 United States Lines cargoship AMERICAN LEADER departs from New York for Phildelphia.
Half way across the harbor the ferry passed the departing United States Lines cargoship AMERICAN LEADER. This 8277 grt vessel, built in 1946, was in regular service between New York and other U.S. East Coast ports and ports in Continental Europe. She had arrived from Rotterdam several days ago and having discharged her New York cargo was now heading for the "outports", Phildelphia, Baltimore and Norfolk.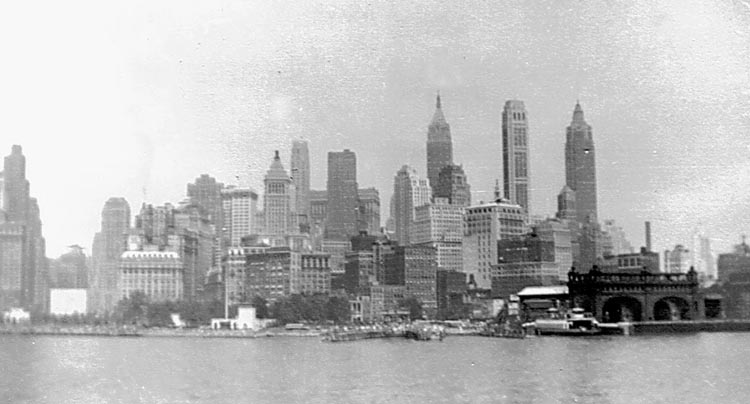 The view of the lower Manhattan skyline from the ferry enroute to Staten Island.
STATEN ISLAND

At the end of the half-hour ferry ride I arrived at the St. George ferry terminal on Staten Island and walked south along a road that ran near the shore and the piers. The first ships that I came across were two American President Line cargo ships.
There were few people around this area and the ships appeared to be idle. PRESIDENT FILMORE (left photo) was a converted Victory ship, built in 1944 and of 7608 grt. The other vessel, PRESIDENT JEFFERSON, was a C-2 cargo ship built in 1946 and of 7925 grt. They were used in several of the line's worldwide services and would change from one service to another.
Just beyond these piers, further to the south, was the U.S. Army Terminal on Staten Island where several Military Sea Transportation Service (MSTS) transports would often be berthed. On this day there were two troopships at the terminal. I was able to photograph the ships but I was not able to clearly identify either of them.
In the photograph on the left the ship at the end of the pier is a P2-S2-R1 Type Transport of 17800 grt, 622 feet long and capabale of carrying 5000 troops. The smaller ship was a C4-S-A1 Type Transport of 10600 grt and 523 feet long and a capacity of 3000 troops. Both ships were built during WWII and part of a large fleet of troop transports, named after U.S. Generals, and still in service transporting U.S. military personnel and supplies between the United States and various overseas bases. Most of the activity at this terminal had to do with supplying bases in the occupation zones in West Germany via the port of Bremerhaven.
The ship that I really traveled there to see was docked further on. She was now also being operated by MSTS, having recently been turned over to them at the end of her service for United States Lines.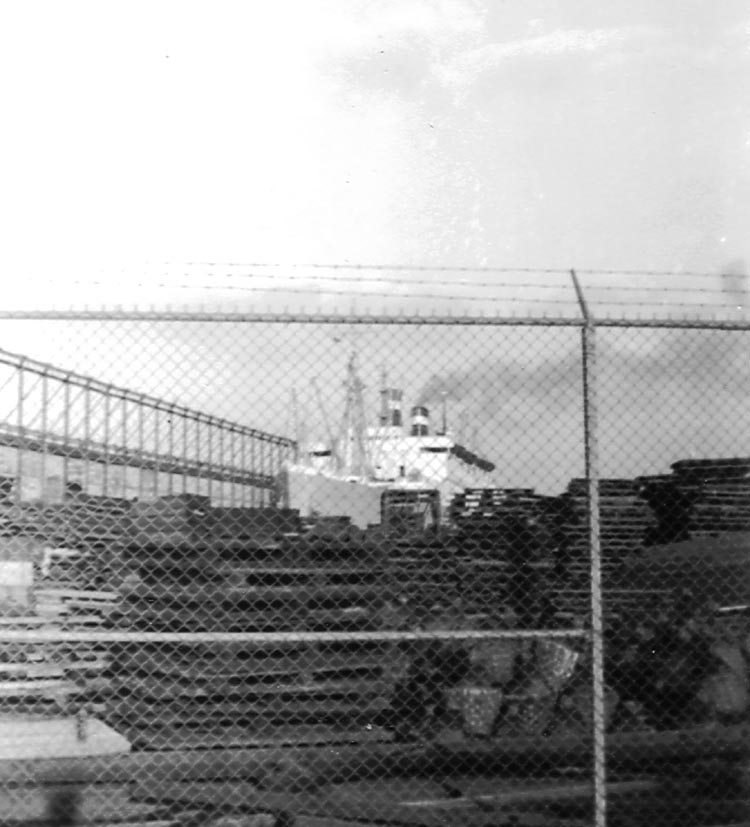 SS WASHINGTON docked in Staten Island prior to her final voyage.
The distinctive outline of the SS WASHINGTON made her a standout in this area of the harbor. She still had the U.S. Lines red, white and blue funnel livery even though she sported the grey MSTS hull. I was disappointed to observe that a fence was enclosing this part of the base I could not get close to the ship and had to take photographs through the fence. This was the first and as it turned out the only time that I was able to see SS WASHINGTON, a liner that I didn't want to miss as she was nearing the end of her sailing days.
WASHINGTON was built by New York Shipbuiding Company, Camden, New Jersey and entered service for United States Lines in 1933 joining her sistership MANHATTAN. They sailed between New York City and Cobh, Le Havre, Southampton and Hamburg until 1939. Having served as a troop transport during WWII she was not fully restored to commercial service but instead sailed between New York, Southampton and Bremerhaven transporting troops, military personnel and their families. Of 29,627 grt and 705 feet in length, she carried 1106 persons at a speed of 20 knots. When the liner returned from this voyage she was sent to the "mothball fleet" in the Hudson River and tied up alongside the MANHATTAN. In June 1965 WASHINGTON was towed down the Hudson River to Kearny, New Jersey where she was broken up for scrap.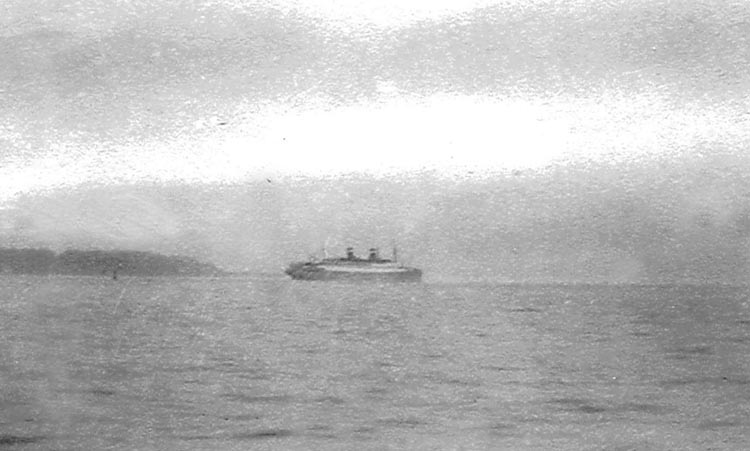 As dusk begins to close in SS WASHINGTON departs for Europe on the first leg of her final trans-atlantic round trip.
The area surrounding where WASHINGTON was berthed was not at all good for photographing departing ships therefore I returned to the St. George ferry terminal. At the ferry terminal I was able to view and photograph the ship from a distance as she sailed on what turned out to be the first leg of her final voyage. It was getting dark and I had but one more photo left on the last roll of film. With the ship sightings completed and the final roll of film used up, I returned to Manhattan on the ferry as the evening approached.