WSS-PONY BRANCH MEETINGS AND EVENTS
NY HARBOR NEWS & NOTES
May 1 - Governor's Island reopens for the season
WHAT'S NEW ON THE WEBSITE
May 2019 edition of the PORTHOLE posted - 07/17/19

New

 MARITIME NEW YORK compendium of lectures, exhibits, tours and transportation around the Port of New York updated - 6/12/2018
Remembering R.M.S. Mauretania Centenary of Her Maiden Trans–Atlantic Voyage November 16 – November 22, 1907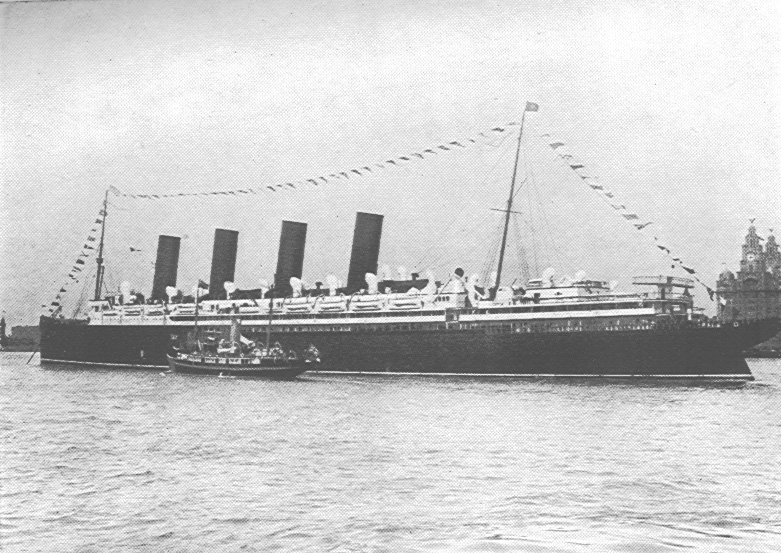 Built in 1906 by Swan, Hunter & Wigham Richardson Limited, Newcastle, England.
31,938 gross tons and 790 feet long. Service speed 25 knots.
She was the fastest liner in the world for 22 years from 1907 until 1929.
Passenger capacity 560 first, 475 second and 1300 third class.
Mauretania sailed from Liverpool on Saturday, November 16, 1907 calling at Queenstown the following day.
She arrived in New York on Friday, November 22, 1907.
Mauretania was the world's fastest passenger liner for 22 years and remained in service as part of the Cunard Line fleet until 1934. On September 26, 1934, the very day that Queen Mary was launched, Mauretania sailed out of New York for the last time. Franklin Delano Roosevelt had taken office as President of the United States the year before. He was a man who knew and loved ships and he had a special place in his heart for Mauretania. The following is his story of that great liner.
It was written in August 1936, almost two years after she had sailed to the breakers.
ARTICLE: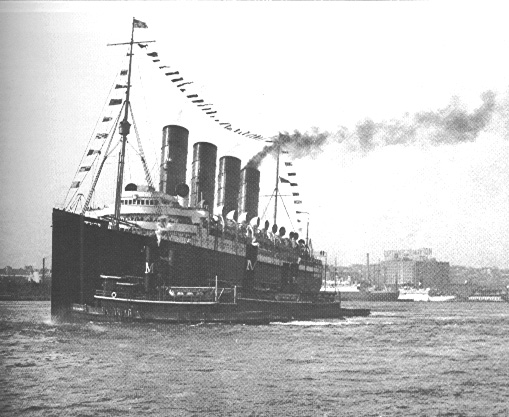 Mauretania sailing from Pier 54 North River, New York in the early 1930's.
"QUEEN WITH A FIGHTING HEART"
By Franklin D. Roosevelt
For twenty-eight years the Mauretania played a poignant part not only in the maritime history of the world, but in business life, as well as being of inestimable service to the United States in time of war. When she was born in 1907 the Mauretania was the largest thing ever put together by man. For almost twenty-two years she remained the fastest liner he had ever produced. Even after she had lost her world championship for size and speed she remained the world's most famous steamship. For it wasn't just her size or speed that had given the Mauretania her fame. That rested on something more secure and intangible – on her personality, for the Mauretania was a ship with a fighting heart. If she hadn't been, Americans from all over the United States wouldn't pause before her 18-foot model in the Smithsonian Institution – pause, almost in reverence, and recount, in awed voices, her history to their children.
Almost shaping history, the Mauretania made history as a carrier of human freight, bringing civilian men and women as well as American and Canadian soldiers to and fro across the Atlantic. And through the difficult years of history she lived in, the Mauretania never fell short of success. For she was a marked individuality, moving across twenty-eight years of a period in which success was not easily attained.
On July 2, 1935, three extraordinary coincidences – at least they were to me. On that date the 18-foot model of the Mauretania, which had been given to me by Bob Blake, American head of the Cunard Line, through Ralph Cropley, was installed in the "choosey" halls of the Smithsonian Institution. On that very date the real Mauretania herself bade goodbye to her birthplace at Newcastle-on-Tyne and sailed away to Scotland to be broken up. Also, on that very date Ralph Cropley, who these forty years has helped me with ship data, became fifty years old. Not that the last point is of any real importance, as Mr. Cropley himself would insist, other than a strange coincidence, for people are reaching fifty years every day. Yet somehow to me, parked as I am in the White House at Washington, there seems to be a weird connection between the three – something almost uncanny.
For years before I became President of the United States – while I was still Assistant Secretary of the Navy in the World War – I wanted to see that the Mauretania should live in American history as she deserved, along with the Clermont, Savannah, Flying Cloud, Great Eastern, and Glory of the Seas, which had made history as the Mauretania had. And let me assure you that the very "choosey" Smithsonian – the National Museum of the United States Government – did not accept her 18-foot model from me because it came to them as a gift of the President of the United States. In fact, the powers-that-be of the Smithsonian told me flatly that the institution accepted the model "because the Mauretania herself had earned the right to enter the hallowed halls of the United States Government's National Museum, along with the Lindbergh and Wright planes and other history-making things. Yes, the President of the United States could have gone and cooled his heels if the Mauretania herself hadn't been a Queen with a fighting heart.
It must not be forgotten that of the many excellent liners of the first third of the 20th Century, and long before she was launched in the fall of 1906, the Mauretania had become the most discussed ship ever planned. Her design, her engines, and her luxuriousness have been so often and at such great length and detail set forth in print that any description of them by me would be out of place. She was 790 feet long, 88 feet beam, and 66 ½ feet molded depth, and her gross tonnage was 31,938.
Miss Marguerite Le Hand, my secretary, to whom I am dictating this yarn, advises me that when first commissioned the Mauretania could carry 2,165 passengers and a crew of 938. Her contract speed was 25 knots. Yet on many an Atlantic crossing she averaged 27 knots and more the whole way across (as she once did with me aboard). Why, even in her old age, this dowager had a burst of speed of 32 knots. In middle age she had her face lifted by being converted from a coal-burner to an oil-burner.
I well remember that the woodwork of her public rooms and corridors was unusually elaborate. Nothing like it will ever again be built into an Atlantic liner. The Latvian oak panels of her dining saloon, as I remember, were hand-carved, every one being "individually different. But then the fame of the Mauretania does not lie in the clothes she wore, but in what she stood for and the work she did. As the Smithsonian Institution said, in accepting the model from me, "It can truthfully be said that the Mauretania was the greatest advancement made in shipbuilding in generations."
Actually her fame and the veneration in which the world holds her memory rest on the fact that during her twenty-eight years of service she turned in a record of consistent performances, whether as a passenger liner, a hospital ship, or and American troop transport.
Every ship has a soul, but the Mauretania had one you could talk to…as Captain Rostron once said to me, she had the manners and deportment of a great lady, and behaved herself as such.
From the notes "Missy" Le Hand has given me, I see that one year, for three consecutive voyages the Mauretania arrived at Cherbourg from New York with but a minute's difference in time for crossing the Atlantic. The times were 5:29 a.m., 5:30 a.m., and 5:31 a.m. on Monday mornings after having left her New York dock the previous Wednesdays. Yes, she was a well-bred warrior with a fighting heart. She seems to have borne a charmed life. I note that in the World War she was only attacked once, though other ships about her were being torpedoed. She was never responsible for the death of a single person on her. She might flop seas on board which tore away deck railing and spattered the captain's dress shirt on the bridge, but that was but play. She was never vicious.
The Mauretania always fascinated me with her graceful, yachtlike lines, her four enormous black-topped red funnels and her appearance of power and good breeding; especially was this so in the later years of her life when she was painted white for cruising and became known as the "White Queen" or, as some of her crew have said, "Looked like a bloomin' wedding cake."
Think of it! She held the Blue Ribbon of the Atlantic for twenty-two years and at that age went out and beat her own record. In 1929 she made an Atlantic crossing at 27.22 knots (if "Missy" Le Hand's notes are correct), beating her own record for the fastest crossing by four hours, only to be beaten by four and one-half hours by the brand new Bremen. To do New York City credit, while I was still Governor of New York State the city's waterfront gave her a wonderful reception in spite of the fact that Wall Street had gone crazy over the stock market slump. Yes, no matter what, we Americans are ever stirred by a decent sentiment. Her failure to beat a new ship especially designed at great expense to beat her fixed peoples' affection on her as much as her success ever had done.
I am going to quote from a letter that I received from Ralph Cropley, who had done so much for the marine reference library of the Smithsonian Institution:
"It was 5 p.m., Franklin, last Wednesday (September 26, 1934) that the stately and noble Mauretania bade goodbye to New York harbor, which knew and loved her for so many years. Slowly, silently, and majestically, the "White Queen" passed down the harbor as the commuters were going home on the ferries. An escort of courtesy she might have had for the asking on this, her farewell departure. But all her life the Mauretania had been going it alone.
Honestly, Franklin, it seemed as if the tide was desiring to assert a prerogative of conveying her to the open sea. Even the waves of the harbor seemed gently to kiss the sides of her as she gracefully glided through the water. Everything in the harbor seemed to have rested a while to look upon the scene of a grand old lady of the seas – the one "White Queen" – going to her doom, head up, regally.
Yes, from office windows in the skyscrapers, from the decks of the commuter ferry boats (as I was on) many an eye beheld the cortege. And Americans that we are and British though she was, multitudes of hearts trembled with honest emotion at the passing of a grand old friend – an honored servant of both England and the United States in peace and war."
Mr. Cropley went on to say that others, besides himself, who had witnessed the "goodbye", kind of found it hard to work for several days after that. For to some of us, myself included, the sea persists in remaining romance, vaguely enticing, dimly alluring, always maintaining its distance. I'm sure that thousands of other besides myself and Ralph Cropley found it hard on July 2, 1935, when we read that the Mauretania was on her last voyage to the ship-breakers to be turned into shot and shell for the next war. It seemed almost blasphemous that a queen should have for her Valhalla only a newspaper paragraph.
Granted the Mauretaniahad outlived her usefulness. Granted she had become economically unprofitable, killed by the public craze for needless swimming pools and private baths, which passengers rarely used the whole trip (other than the toilet) after they'd payed heavily for the foolish honor. But why couldn't the British remembered the Mauretania's faithfulness –taken her out to sea and sunk her whole – giving her a Viking's funeral, this ship with a fighting heart? It would be more inspiring to those who come hereafter to know that a ship that was a ship received decent treatment at her death.
I am not recording my affection for the Mauretania as President of the United States, but as civilian Franklin D. Roosevelt, who loves the sea, its ships, and the men who sail them. It is meant solely as an historical record and a tale of my sea love.
Franklin Roosevelt entrusted this story to his friend Ralph Cropley, with permission to release it for publication after his death.
(Courtesy of the Franklin D. Roosevelt Library Digital Archives, Hyde Park, NY.)