WSS-PONY BRANCH MEETINGS AND EVENTS
NY HARBOR NEWS & NOTES
WHAT'S NEW ON THE WEBSITE
PONY Cruise schedule updated 10/14/19
Summer 2019 edition of the PORTHOLE posted - 10/14/19
MARITIME NEW YORK compendium of lectures, exhibits, tours and transportation around the Port of New York updated - 10/14/2019
Queen Elizabeth 2 – Final Voyage Blog
by Richard Faber and Jon Miller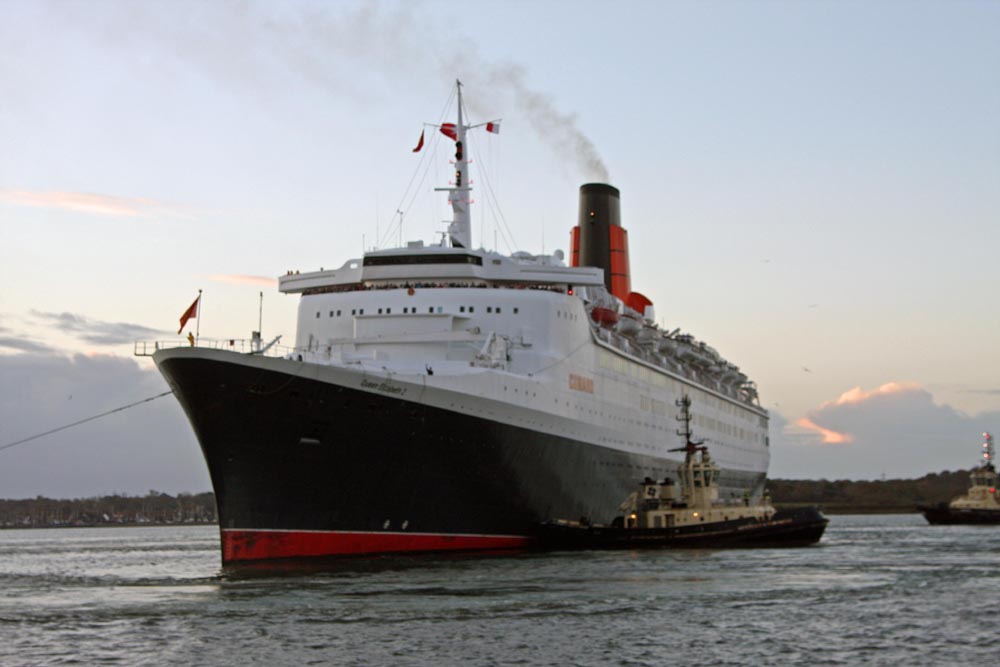 Queen Elizabeth 2 arriving Southampton, 11 November 2008.
(Photograph William J. Mayes)
Richard's Faber's Report from the Queen Elizabeth 2
Remembrance Day Southampton, Tuesday, 11th November 2008:

(Parenthesis indicates edited additions by Theodore W. Scull)
Ted, it is now 7:40 a.m. and I just logged in to the system. Where to begin!!
The flight from New York went fine. We landed on time and were off to the hotel in S'ton arriving there before midnight.
Monday was horrible with gale force winds and heavy rain all day. We went to a wonderful restaurant that night - La Regata - on the waterfront near the Red Funnel Terminal.
Tuesday started at 7:30 a.m. when we awoke, turned on the TV and heard that QE2 had run aground for a few minutes off the Isle of Wight. Apparently a sudden gush of wind pushed the ship a bit out of the narrow channel but she was quickly back on track and docked before 7:45 a.m. As a result of the incident, Carnival Corp. cancelled all interviews with former Commodore Warwick and others scheduled throughout the day, fearing adverse publicity I suppose.
We had a car for 10 a.m. to take us, two friends and all the baggage to the pier with a stop at Cobwebs. There I purchased a maiden voyage carry bag and some other stuff. We were then off to the pier arriving about 11 a.m. with passengers still disembarking, luncheon guests arriving and embarking passengers waiting, so there was quite a bit of confusion. We waited until about 11:45 when we checked in and went up to the lounge.
Prince Philip had arrived by car alongside the ship at 10:45 a.m. We boarded at 1 p.m. and it all went quite well with food available in lido and tea scheduled for 2:30 p.m. I dropped everything in our cabin, 3121, then went looking to see what was going on. Outside the Yacht Club cameras etc. were being set up, and I learned that there would be a ceremony about 1:45 p.m. with Prince Philip. Shortly afterwards he appeared with Cunard President Carol Marlow and Captain Ian McNaught.
Flowers (a million poppies to commemorate Remembrance Day) were dropped over the ship. There was to be a Harrier Jet dipping over the ship. What noise when the plane arrived! (According to a report from another passenger, Jon Miller, the jet hovered over the ship's stern, dropped its nose and then it looked like it took a bow. Incredible!). I have some photos of this and of the Prince. He then left the ship, and we wandered around waiting. Then from 6 p.m. the band dockside began to play until 7 p.m.
Ted - Before I continue - Before lunch I sat with Ron Warwick for an hour and he enlarged on the Dubai delivery. He has just been engaged by the new owners for a three-month contract which is extendable up to four months. It is possible, but not yet confirmed, that he would be appointed Captain of the Dubai-owned QE2 as they surely will need someone in case ship has to be moved, etc. It is a bit vague at the moment.
Now to last night - The festivities began at 1800 with band playing on the dock which continued until 7 p.m. There was then a moment of silence for Armistice Day (Veterans Day/Remembrance Day). At just after 1915, the ship moved from the Queen Elizabeth II Terminal and backed up to be adjacent to Mayflower Park. We were then surrounded as far as one could see with harbor craft, so dense you could not see the water. Harbor security was trying to move all away from the vessel.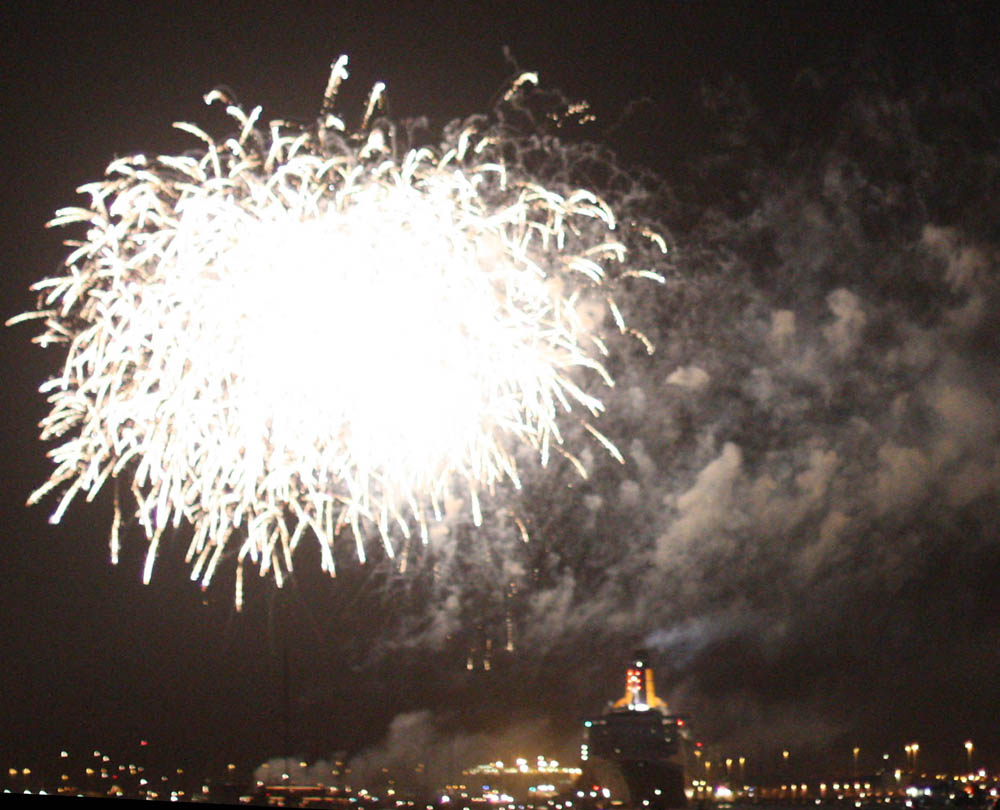 Queen Elizabeth 2 departing Southampton, 11 November 2008. (Photograph William J. Mayes)
The fireworks began just about 1935 and were spectacular, showering the ship as they exploded right overhead and continued for about 15 minutes. Then QE2 began to move forward with whistles and harbor craft whistles all together and with music blasting onboard. At this point the music was American – "I did it my way etc."
As we were again abreast of Queen Elizabeth II Terminal, a reduced version of fireworks started that could not be compared to the earlier ones, shorter, less than five minutes. Then whistles again as we moved ahead and the traditional music - Elgar, Rule Britannia, Pomp & Circumstances etc. There were lots of tears, and we were freezing by this time. The night was crystal clear with a nearly full moon. The harbor craft continued to surround the ship until after 9 p.m.
Dinner in all restaurants was extended, in Princess 8-10 p.m. We had a wonderful meal, and later at 10:30 p.m. we went to the Grand Lounge for the Cunard Singers/Dancers show which was great. After it ended, Warren, the Cruise Director introduced his social staff. Speaking of the social staff, I saw Maureen Ryan at lifeboat drill but not to speak at any length. More later.
Wednesday, 12 November:
Today there were no nautical lectures, only ones on ports. Tonight is the grill party with Captain McNaught. I also saw Maurizio Eliseo, who as a consultant, is checking out various parts of the ship, engine room, etc. There are over 1000 Brits, about 230 Americans and sprinkling of other nationalities. Tomorrow is Lisbon. Wonderful weather - now clear and sunny.
Ted – Last night was the Grills' cocktail party- elegant and up beat as usual. No tears YET. B. Mueller is onboard. The shows for the last two nights were well attended. We docked at Lisbon's Alcantara Terminal at 10:30 this am and it's cool and sunny. The ship is facing out with the bridge (Tagus River) in front of us. MSC Sinfonia is aft along with Ocean Monarch. I took the free shuttle bus to Praca Commercio after which we headed to Barrio Alto section for shopping and a great fish lunch. Now back on board, and we sail at 1800 for Gibraltar. I have not been able to chat with Captain McNaught as he has been very busy with various officials. This year I am bringing only postcards, and Avery McCarthy may use part of my table for his photos taken on Oct 16th, plus mine taken on this trip. For now.
Saturday, 15 November:
Ted – I am sorry for being late in replying but the computers were down. We arrived in Gibraltar yesterday at 10 a.m. in sunny warmer weather. Shortly afterwards, Zenith tied up on the other side of the dock. When it was time to sail at 5 p.m. there were no passengers inZenith (Pullmantour). Empress of the Seas, formerly Nordic Empress, could be seen in drydock where Rotterdam (1959) was for a long while. When we sailed, lots of harbor craft gathered around with spraying fireboat sprays, whistles, etc. I met a couple from Australia, the Wickhams, who had honeymooned in this vessel in 1984 and will celebrate 25 years next year. While we were having lunch in the Princess Grill, Ron Warwick appeared and sat down for a chat. It was just delightful. He is going to try to organize a ship enthusiasts meeting for 19th. No ship lectures up to now. We dock tomorrow in Civitavecchia (port for Rome) then the following day at Naples and the day after at Malta. I am planning to bring to Ocean Liner Bazaar (New York, Dec. 6th) the many photos I have thus far taken on this historic voyage including several of Prince Philip. The weather is much like North Atlantic today - white caps and grey skies.
Dick
-------
From Jon Miller: Ted & Suellyn – Loved Lisbon, especially the Alfama district and the historic Jewish Quarter therein. Fascinating time hiking through, up and around the narrow cobblestone alleyways. Also had lunch on Rua Agusta near the Plaza do Comercia. We savored Arroz do Mariscus (rice, lobster, shrimp, mussels and cockles in a tomato broth). Man was that good. We were serenaded by an accordionist for a time while enjoying our table in the sidewalk cafe portion of the restaurant. Ship seems to be in fine shape. Sad to watch them remove the Queen Mother's standard from the Queen's Room during tea in Southampton. The other standard (the Queen's?) was also removed.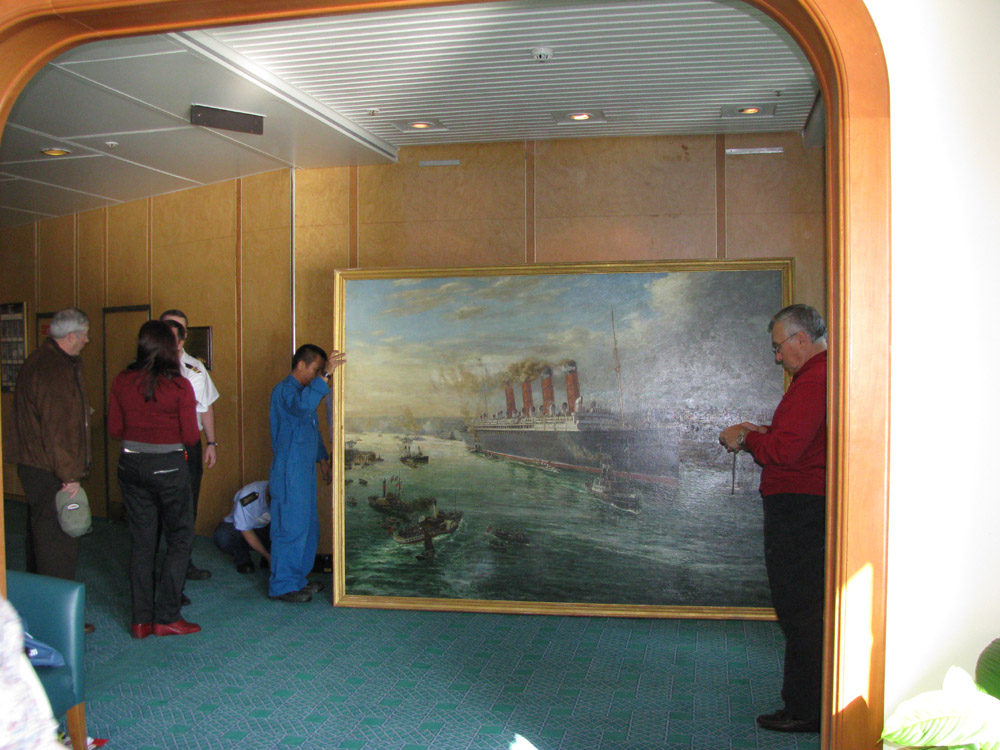 The painting of Mauretania (1908) being removed from QE2 at Newcastle 8 October. (Photograph John McFarlane)
The huge Mauretania painting is no longer on the wall by the jigsaw puzzle. The painting of QE2 and Britannia of 1840 is no longer there with the QE2 ship's bell either. (The Mauretania painting was removed at Newcastle-on-Tyne during the "Farewell to the British Isles" cruise. The painting was given to the builders of the 1908 ship and the other removed during the final westbound crossing 10-16th October) And no caviar in the Caronia. The waiter allowed as how we might be able to have some but would have to pay extra for it. The waiter is excellent. He has been on the ship for 10 years. He hasn't been told where he will be working next. He will take his normal vacation after Dubai and is anxious to know with certitude where he will go after that. Many other crew members have told us the same thing. Others have been told exactly where they'll be going and when. For the rest, some considerable anxiety about the uncertainty, although they have been told they will have a job; those who haven't been given any concrete info are a bit skeptical. Departing Lisbon just after sunset and under the Golden Gate Bridge knockoff was spectacular. (Jon Miller lives just south of San Francisco.)
Departing Gibraltar yesterday on a bright sunshiny afternoon was also an unforgettable treat. Seeing Morocco and the African continent as we did from the decks of QE2, and being mindful of the Palin axiom, gave me an expert's knowledge of the region! All The Best, Jon Miller
-------
Sunday, 16 November:
Ted - I spoke to Maureen (Ryan) yesterday at tea and gave her a hug for you. She had spent some time with Commodore Warwick, and she is so happy to just sit back and watch as a passenger. She looks at the whole picture so realistically!! We did not have enough time to really chat but that will come later. I spent a lot of time with Ron and Sam (Warwick) yesterday showing them over 300 photos of my QE2 collections, and I gave Sam my CDs of them for use on his website. Ron is actually under contract effective November 11th with the Dubai Group for three months, but not working now. Maurizio Eliseo and his associate Norman (?) leave the ship today at Rome, and Hank and I are heading for Rome and Porta Portese (flea market) by coach. The temperature is going up to 64F, and we are looking forward to my fourth visit to this city. Cocktails with Ron, Sam and others in the Princess Grill Bar last night. Tonight is casual onboard as we have another port tomorrow (Naples) and Malta the next day. I sat with Jon and Janine (Miller) at tea yesterday, and he very happy with the larger cabin on Three Deck (They were in a C3 and are now in a P2 but without Princess Grill dining because it was full). We are very happy with the food and had a special order of lamb last night as the regular menu was not very exciting.
Monday, 17 November:
Ted - We are arriving in Naples in less than an hour. Yesterday was wonderful arriving in Civitavecchia before 8 a.m. and all but one tour was off by 8:30. We went on the "Rome on Your Own Tour", and there were five coaches. We were dropped at the Vatican in front of a souvenir shop that allowed us to use the facilities. Hank, Mario, myself and two others then hopped in a taxi to Trastevere where we had a great lunch and wandered through the flea market. Hank found treasures; we found none. We then taxied to Via Condotti for upscale shopping and walked towards Piazza del Popolo passing the maritime book store Amor del Mare but it was closed. The Costa Concordia book was in the window. We returned to the Vatican and at 4:30 p.m. the bus left for the ship. While waiting for the coach, I spoke at length with a dance host from the UK. He told me that he had to pay $25 per day which included food and cabin. They worked 6-12 midnight with a 1-1/2 hour break and had to dance every dance. There are strict guidelines as to selection of partners, etc. Fascinating. The departure at 7 p.m. was strangely silent with four other liners plus huge ferries in dock. I saw Brilliance of the Seas, Costa Concordia, Norwegian Jade, and one other. When we sailed, not one whistle was sounded from anyone, including us. I then recalled that according to Ron Warwick, they are not allowed to blow whistles in Italian ports except for navigational purposes. I don't know if you have heard about the special lapel pin Ian McNaught gave to all the crew. It features his stripes in enamel with dates of final voyage and his name. It must be worn by all crew for the voyage. The warehouse in Southampton where all the inventory from all departments is kept, not only Cunard but other lines, was vandalized recently and among other things, 100 of these pins were stolen and the thief put one on E-bay at 100 pounds as a starting bid. Soon after, he was arrested. I know nothing further on this story. Today we are in Naples, one of my favorite ports so Hank and I will wander all over for the day. Tomorrow is Malta then a sea day and Alexandria on Thursday.
Dick
Tuesday, 18 November:
Good morning Ted - It is 7 a.m. and the dining room opens at 8 a.m. We should be docked at Valletta (Malta) before 9 a.m. No tours for us. We are just walking into town and returning to ship for lunch. I should have asked where that Titanic model is parked here. (Any visitors know?) Yesterday we arrived about 8.a.m. at the beautiful Stazione Maritima in Napoli, still quite recognizable after nearly 80 years. Brilliance of the Seas was docked on the opposite side and Insignia nearby. The interior of the terminal is partly under renovation. We went ashore (Mario went to Capri) and took the On/Off bus for a 90-minute open air bus ride to center of town and then out to Petrarca and Possillipo for wonderful views of the Bay of Naples with Mt Vesuvius in background. Top of mount was covered in clouds and not much sun. Wonderful to see the giant Cunard funnel in the midst of the huge white monster liners around her.
We spent time in town, had a nice lunch there and returned to ship about 3 p.m. The shops in the terminal no longer have any Italian Line souvenirs or postcards. It got dark about 5 p.m. and we sailed at 6 p.m. As we left the pier, there was nobody on the terraces to see us off and the lights in the terminal were shut off before we cleared the pier, but every balcony on Brilliance of the Seas was filled with passengers waving and taking pictures of us . Three long blasts from QE2's whistle and we were off. We had been docked stern in. Last time I was here two years ago with QE2, we docked bow in. Last evening we had drinks with Dr. George Kehler and wife Susan from Tennessee. P.S. Jonathan Leavor, who has been Purser in QE2 and QM2, joined as a paying passenger in Rome and has a cabin on 5 Deck. He is quite attached to this ship so I was happy to see him. When he visited the ship in Southampton and had to get off, he was very sad.
Queen Elizabeth 2 at Malta from her bridgecam.
Ted - We (Tom Ragan, Jim and Hank and I) went by taxi to the Maritime Museum this a.m. about 20 minutes on the other side of harbor near the shipyards. We passed MSC Opera in drydock and she has been there a week and will be there another week. Also, there is what I believe to be Astor under major conversion and she already has a Saga funnel color. I could be wrong on this. At the end of this year, we are told the shipyards will be sold, causing major problems with workers here.
There is lots of harbor activity with small craft, yachts, etc. We are taking on fuel with fuel ship Santa Maria, and our mast is flying the paying off pennant. We sail for Alexandria at 6 p.m.
Wednesday, 19 November:
Good morning Ted - As we sail towards Alexandria, the clocks went forward again last night so we are now seven hours ahead of you. We sailed promptly at 1800 last night. It was dark and the city of Valletta was aglow.
Many people could be seen on the terraces around the port but strangely, with all the harbor craft, yachts, etc. that we saw all day, none were sailing out with us or even visible in the water. Other than our whistle that gave out three long blasts, there was no other noise. Jon and Jannine (Miller) were next to me when they phoned you.
Commodore Warwick was host to ROL Cruises' party in the Yacht Club, and there were about 100 guests. He is associated with this travel agency that is supposedly the biggest producer of Cunard bookings in UK. He and Sam (son) were obviously enjoying the spotlight which is certainly due him. Today he is holding a Q & A in Board Room at 10:30 a.m. I spoke to Maureen Ryan (whose Cunard employment dates back to the Queen Mary) at the party and she is hoping to give a lecture sometime between now and a week from today when we dock at Dubai.
Our passports are being held at Pursers Office, and we collect them today as we must have them with us tomorrow ashore. They are then given back to the P.O. and processed for Dubai.
I forgot to say yesterday that the maritime museum was a non event for liner buffs.
Since the start of this voyage, many have inquired as to where and when the really special souvenirs of this voyage would be offered. The answer was that they would come out on 19th at 9 a.m. So this morning, as you can well imagine, there was a long line of eager buyers outside the shops. At the stroke of 9 a.m. it became a frenzy almost reaching hysteria. But, the items on offer were less than wonderful. They all featured the QE2 funnel together with "VOYAGE TO DUBAI" and no specific date. The items consisted of a porcelain mug, various shapes of crystal glasses, cloth caps and shirts, candy tins and little else. Not one really special item unfortunately. Perhaps later in the voyage as I have heard we will all receive a plate like we did on maiden voyage of QM2. The shops are running out of the shopping bags with "CUNARD" on them and many can be seen walking around with plain brown bags.
Thursday, 20 November:
Ted - Good morning. It's 5:12 a.m. and we are nearly tied up in Alexandria. I awoke to the ship at speed in a channel. The port looks to be huge, though it is dark. I expect to go off and meet the driver/guide at 7:30 a.m. for the three-hour drive to Cairo, the pyramids, lunch, etc. We sail tonight at 7 p.m. I will try to get as much info as I can for you concerning the harbor craft, etc. Yesterday started with a gathering of ship enthusiasts in Board Room with Commodore Warwick taking questions - very informal and most enjoyable. About 25 or so attended. He was asked many questions about the future of the ship and he continually had to respond that he had no idea about anything other than safety and security issues which is what he is hired to do on a three-month contract that began November 11th. We were together for a little over an hour.
Last night was the FINAL World Club party for platinum/diamond members. The Queens Room was overflowing to such an extent that I was forced to go to Chart Room for my drink. So many others had the same problem and finally the Chart Room was giving drinks out without signing for them.
Four long time Cunard passengers were awarded flowers and gifts including Barbara Klune and Bea Muller (4000 days). She (the latter) will go to Queen Victoria on November 29th then QM2 for the World Cruise and then not sure what she is doing after that. Can't wait to see live what I have been seeing in photos for as long as I can remember. Like many other things, I expect that the pyramids will be much smaller than what I imagine.
I forgot to mention that I had a meeting last evening with Suzie Cox who is in charge of the museum end of the Dubai purchase. All that seems to be fixed at this moment is that soon after the ship is officially delivered to new owners (November 27th at 2 p.m.), all the memorabilia will be removed from the vessel and put into storage. Every piece has already been tagged with bar code, etc. No final decisions have been made as to what is needed for the museum and what the general plan is - whether it be only Cunard or the whole ocean liner story from day one in 1800's which could be only Cunard or only British or all companies.
First of all, I forgot to mention that the synagogue has been dismantled and the religious items all donated to a rabbi either in Southampton or London. All that remains are the benches and sconces.
Now to today. We docked in the dark about 5:30 a.m. and four of us were off at 7 a.m. to a hired car for the trip to Giza and the Pyramids and Sphinx and then lunch at Seasons Country Club and back to the ship. Wonderful weather, sunny and temperatures in the 70's. We saw the 12 pyramids with the three huge ones overwhelming to us in their size. We spent some time there, on and off camels, etc. Then to the Sphinx which was a short distance away. I had been told it is much smaller than one would expect but I found it to be immense but difficult to really tell as we were kept at a distance. The luncheon was wonderful with a four-course meal with wine. We returned to the ship about 4 p.m. via the express road from Giza. We have been told that because of a Rugby gathering in Dubai, there will be no taxis on 27 November. Tonight will be a quiet one on board with no functions that I know of. Carol Marlow joined today for the final leg.
Friday, 21 November:
Good morning Ted - We sailed last night from Alexandria at 7:45 p.m., a bit later than scheduled as one bus was late returning. There were fireworks in the distance and few people on the dock as there is heavy security here. The whistle sounded three long blasts. Although many of us on the decks knew that this was the very last time this famous liner would depart from a port with passengers, there was no announcement.
The ship is spotless, and the crew can be seen all day long polishing, vacuuming, etc. just like in the past. There is not even a suggestion that this is countdown time and a week from today we will all be ashore and filled with memories. There is a Concorde lecture (again) today but no liner lectures. Maureen Ryan will be in Chart Room for a chat and this is in the program. Heritage Trail with Thomas this afternoon and I will attend this one.
We are due at Port Said at 0300 today and I will give you an update later on the Canal transit.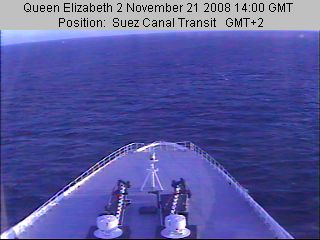 Queen Elizabeth 2 in the Suez Canal from her bridgecam.
Greetings as we are now beyond Suez Canal since about 3 p.m. We arrived at Port Said about 0230 and the ship got clearance from canal authorities pretty quickly. We entered the canal soon after as the last ship in the convoy of seven. We awoke about 0630, and the ship was already at speed in the canal. We passed several cargo ships this morning including car carriers, and one in particular, MIGNON (opera) of Wallenius was of particular interest since I worked for them for 18 years. We arrived in the Great Bitter Lake about noon and then immediately passed all but one of the others in convoy before continuing on as #2 behind a French naval vessel.
Saturday, 22 November:
------
(From Jon Miller)
We sailed through the Suez Canal yesterday. Fascinating! Now sailing in the Red Sea about 17 miles from Jiddah (Saudi Arabia) at the noon whistle, 10 minutes ago.
It seems almost all passengers on this journey are sun worshippers and it is impossible to find an empty deck chair except up on the uppermost deck just aft of the funnel (although I'm currently in the Yacht Club which is one of the WiFi spots onboard).
We have had a wondrously fabulous time. Each port has marked a first-time visit for me. We were able to spend a night in Rome and, in our 27 hours there we kept on the run and experienced 2 or 3 days worth of wonders (including a blessing from the Pope just for Janine, me and about 300,000 others).
Now, after several remarkable ports in a very few days (Lisbon, Gibraltar, Rome, Naples, Malta, Egypt and the Suez Canal--plus London and Paris prior to embarkation), we have 5 lazy--and warm--days at sea.
There is very little to indicate that this is the end of the line for QE2. However, there are occasional reminders. For instance, the Harrod's shop on Boat Deck is now just a spillover knick-knacks shop. The Traveller's Cove on One Deck is getting short on sundries the deeper into the voyage we go. We received a note in the cabin yesterday saying we were welcome to keep the terry-cloth bath robes in the cabin and also the leather folder (in fact, if we needed an extra folder, just ask the room steward!). Hey, Janine has found a couple of chairs on Boat Deck! Duty calls! There's nothing to do and so little time to do it! See you in January and perhaps in December for the OL (Ocean Liner) Bazaar. All The Best, Jon Miller
------
From Dick Faber:
Good morning Ted - It is Saturday; the clocks go ahead one more time tonight and I believe that is the last time. We will then be eight hours ahead of you. We are in Red Sea and will dock in Dubai in five days, Wednesday 26th in the afternoon with fireworks that evening and then we disembark Thursday a.m.
We have been informed that there is a big Rugby Tournament going on there so there will be no taxis available. You can imagine the stress this has caused some of the passengers. We are to board shuttles to be taken to a spot near the airport and then find taxis. This is only for independent travelers like us as those with Cunard packages have coaches picking them up. The ship will get visas for all, so they are holding passports like was done for Egypt.
I have spoken to many crew. Most do not know where they will be placed, so they will return to their homeland, some on the 28th, 29th, etc. Gradually, the senior people are finding out where they will go, and some already know. Nothing special scheduled yet concerning this historic voyage, and I do not know when the senior officers party will be. Judging from the number of diamond/platinum members onboard, they might have to have two parties.
You would have been wonderful narrating the transit of Suez Canal. Everybody was so disappointed that there was nothing done. We enjoyed it thoroughly however and such varied scenery. Once in a while you would see a small shack in the middle of desert with a uniformed guard at the door and nothing around for as far as you could see. Today there is a memorabilia gathering in chart room and another Concorde lecture. Renewal of wedding vows at noon in Chart Room.
Sunday, 23 November:
Ted - Yesterday was quite a day. First of all, it is now hot and most people were out on deck. The Brits, having had a rainy summer, were all trying to get some color.
There was a gathering in Chart Room at 11 a.m. for exchange, chat, and QE2 memorabilia. I was quite involved with that as I had brought some nice pieces from my first voyage in her, a crossing in September 1975 with my parents. Maybe 20 attended.
Meanwhile, there are still no lectures. However Carol Marlow at this late hour is approaching Maureen Ryan and Commodore Warwick to see if they could help. Commodore and Ms Marlow finally were able to reach an agreement and he will lecture on Falklands at 10 today with maybe a second slot for him to do QE2.
Ms Marlow is supposedly. going to speak at some point about the historical significance of this voyage, and I would guess she will be asked some heavy questions about this trip as many are very unhappy about how lacking it is. And now, with the warm weather, the A/C is acting up. Many fans are being distributed. Our cabin is fine as is the restaurant. The farewell parties are beginning and one was held last night for senior officers. We did not get invited to that one but tonight we go to John Duffy in Yacht Club.
Also, Sam (Warwick) will do a reading in a (Roman Catholic) service today at 5 p.m.
Commodore Warwick is the official captain of this vessel as of 2 p.m. on 27th, and he will be residing onboard. His son Sam has been granted permission to overnight on here until 28th when he flies to London and joins wife Hilary and daughter Beth for the return to Australia.
With one event after another happening, it will get emotional from now on. I took photos of the final crew lifeboat drill yesterday and it was obvious that the crew is really beginning to feel it.
Dick
Sunday, 23 November (continued):
Ted - It is 5:30 p.m. here and we have had a wonderful day in bright sunshine and hot weather. The air conditioning has improved somewhat.
This morning Commodore Warwick lectured to a packed house in theatre on his experience as Chief Officer on the ship going to Falklands in 1982. He had heard over BBC while they were enroute from Philadelphia to Southampton that they had been requisitioned for war duty. Fantastic photos and data on the experience which ended when the ship returned to Southampton, and Her Majesty the Queen Mother in R.Y. Britannia escorted the ship to port.
Commodore Warwick has just learned that he will lecture again tomorrow on the subject of "QE2 over 40 years" with interiors, photos, etc.
There was an auction for Prince's Trust held in Grand Lounge at 2:30 p.m. with original track charts of this voyage plus a banner which hung in the Queens Room last year with 40th Anniversary logo, and a four-night stay in Queen Elizabeth or Queen Mary suite from now to disembarkation. The Dubai owners have vacated the suite for the charity.
Another is a tour of all spaces on the ship except bridge and engine room for two. Total yield was about $68,000.00.
Tonight is John Duffy's party in the Yacht Club. Maureen Ryan just learned that she will lecture Wednesday morning and will be followed by Carol Marlow.
------
From Jon Miller: 4 PM ship's time aboard QE2 — 8 AM in New York, 5 AM in California—23 November 2008:
While walking the windswept Boat Deck on a not-too-hot day, Janine and I looked aft and saw QE2 had just made a rather sharp turn to port. After sailing the Red Sea throughout the day, we were now making our turn into the Gulf of Aden. In the far distance, on either side of QE2 we could see land and also noticed security officers on deck and the bridge wings, all surveying the horizon.
On either side of Boat Deck, near the Gift Shop area and Sports Deck, we noticed a machine being manned. Each machine was emblazoned, in bold lettering, with the acronym LRAD. We were told this was likely a so-called "non-lethal" weapon (using sound waves that could cause intense pain for whomever it is being used against--the bad guys I'm guessing). These could be used if QE2 was suddenly being threatened by pirates or possible terrorists. With Yemen off our port side and either Ethiopia or Somalia off our starboard, QE2 is keeping a watchful eye.
Yesterday as we transited the Suez Canal and entered Great Bitter Lake, we became a convoy of 2 ships in the southbound lanes. Only QE2 with a French destroyer ahead were allowed in that lane at that time. Today both British and American naval vessels have been spotted at times in fairly close proximity to us.
The Final Voyage of QE2 was, as we say in baseball, a tough ticket. Perhaps it was toughest for Ross from Glasgow. Ross grew up on the Clyde and saw QE2 being built as a child and has followed her career with interest in all these many years since. However, Ross never sailed on QE2. Always meant to, but never quite got around to it. Then, there it was, QE2's final voyage, Ross' last chance to realize a lifelong dream. But, it proved to be impossible to book passage. All sold out. No cabins available. Ross was on the waitlist, but his number never came up.
On sailing day in Southampton, Ross came down from Glasgow to at least see QE2 off one last time. He happened to stop in at the pier and inquired about any last-minute cancellations, just in case. Again, no luck. No first or last voyage for Ross.
Sunday, 16 November, QE2 called in Civitavecchia for Rome. That morning on the Clyde Ross also got a call. It was Cunard, the agent he'd spoken to at the pier had not forgotten him. A cabin had come available, would Ross like to join the ship in mid-voyage?
Are you kidding?!
But Ross couldn't get a flight to Rome on a couple hours notice without going broke. However, there was a flight to Malta two days hence—it was affordable, it was available and Ross joined QE2 in Malta. Perhaps the final paying passenger on the final voyage of QE2. Surely, nobody on board is having a better time than Ross.
Today and for the first time on the voyage, Janine and I noticed a bit of ennui hitting the crew in our restaurant, the Caronia. Our waiter at table 401 is a 10-year QE2 veteran from the Philippines. He is smooth, efficient and thoroughly professional, not to mention extremely likable. When we reach Dubai he will be heading home to see his wife and 3 children for his normal vacation leave. However, he doesn't yet know what the future holds for him with Cunard or Carnival. As with many other crew members on board, he's been told he will have a job but given no assurances of when or where. Some, such as Susan in the Purser's Office, already know their next assignment (she'll be heading to the Purser's Office aboard Queen Victoria, for instance).
Our waiter would feel much more comfortable if they would give him something concrete before he flies home to the Philippines come Thursday afternoon.
By the way, he hasn't been home since January. His deal calls for working 11 months at a time before getting vacation. He hasn't seen his wife or 3 children (ages 11, 7 and 4) in all that time.
At lunch today, he was all alone in our area. Our excellent sommelier, Jacek from Poland, was missing as was the assistant waiter. Our waiter, Michael, seemed either extremely tired or distracted. We wondered whether perhaps they'd had a late night crew party last evening (they had). Or if, after 11 months away from home and with his ship of 10 years about to be removed from his life forever, the reality and uncertainty of the immediate future was starting to hit home.
There are others for whom the end of QE2's career is a sobering thought. Commodore Ron Warwick, who is synonymous to QE2 in the minds of many aficionados, is on this final voyage accompanied by his son Sam. Commodore Warwick, now retired from Cunard, is—incredibly—a full-paying passenger on the ship!
Maureen Ryan, who has been a member of the ship's company for most of her adult life, is also a paying customer on this final voyage.
Today, due to popular demand really, the Commodore gave a lecture in the Theater on the topic "QE2 in the Falklands War". It was a fabulous talk and featured some great photos blown up on the big screen from his personal collection, many of which he snapped himself while in his role of Chief Officer on QE2 at that time. The talk drew a standing-room-only crowd in the Theater and most everyone there echoed the thoughts of one attendee who, during the question and answer session following the talk, said she didn't have a question but just wanted to say "what a great honor it is to have you sailing with us aboard QE2 on her final voyage."
This provoked a lusty round of applause from the audience as well as several "here-heres".
Tonight we learned from the daily bulletin Commodore Warwick is to give another lecture tomorrow at Noon with the title, "The History of QE2".
By the way, the Commodore said we were doing 29 knots today (we were doing 30 knots on more than one occasion earlier in the voyage).
After the hour-long session with the Commodore, the Theater was taken over by the current Master of QE2, Captain Ian McNaught who led another jammed-pack gathering in a Sunday sea-going tradition the "Inter-Denominational Church Service and Hymns". The 600 or so members of this particular congregation knew all the songs and sang them joyfully (and mostly on key!) and loudly. We may have become the largest totally unrehearsed, sea-going choir in Cunard history! Songs included "Guide Me, O Thou Great Redeemer", "Glorious Things of Thee Are Spoken", and closing with the seaman's hymn "Eternal Father, Strong to Save". It was certainly a memorable final Sunday service in QE2's history.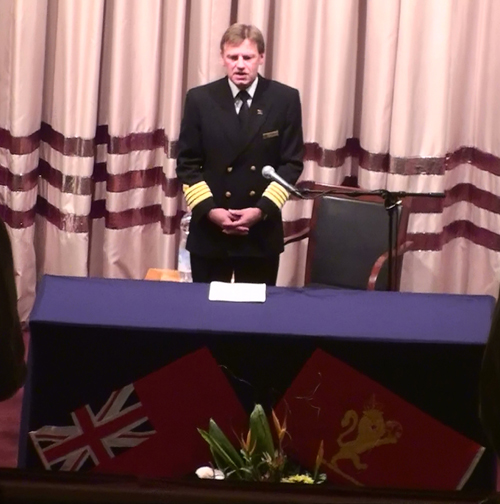 Captain Ian McNaught presiding over a Sunday Service on QE2.
(Image from a video filmed on board)
Tonight at 7:30, Janine and I have been invited to party with "Chief Engineer John Harvey and His Technical Officers" in what is being called a "Farewell Cocktail Party" at The Funnel Bar.
However, our favorite invitation—arriving just this afternoon—came from Dick Faber and Mario Pulice. Tuesday night at 7, we're invited to join them in the Board Room on Boat Deck "in bidding farewell and toasting the greatest ship in the world---QUEEN ELIZABETH 2---on the eve of her retirement." It is the story of this trip really, the trip of a lifetime featuring amazing ports-of-call with awe-inspiring history; oh look, there's the Pope giving us his blessing! See there, the Great Pyramid of Cheops! Right here, the place where Julius Caesar was killed! There it is, the church of the Knights Templar!
Wow, isn't she a beauty, the historic liner QE2...soon to begin careening down through the corridors of time just as has so much of the history she's carried us to—in style, as always--on this her final voyage.
Jon Miller, in the Gulf of Aden aboard RMS Queen Elizabeth 2.
------
Monday, 24 November:
Ted - The countdown is beginning now. Yesterday the crew was given gifts which consisted of a Lucite block with an image of the ship inside, in a dark blue presentation box with the ship's name on it but no date. Also a jersey type jacket with the dates of the final voyage on it.
Last night was John Duffy's farewell party in Yacht Club and very elegant indeed. I would guess about 150 attended.
Today there is a lecture on "Dubai-QE2" in the morning followed by another Concorde lecture and at 12:15 Commodore Warwick presents his talk on 40- year history of QE2. Nothing else special today but I am sure there are other parties around the ship.
And there is mass confusion on board as to disembarking. Pursers Office says no vehicles allowed in the port so ALL passengers must take shuttle to some center where we then find taxis.
Dick
Tuesday, 25 November:

Ted - It is 8 a.m. and we went ahead another hour last night. The Ward Room party was a bit different from what you and I remember in the past. For one thing, there was a control at the door and, if you were not on the list, you didn't go in.
It was a crowded party as usual and when it really got packed about 8:30 p.m. We went off to dinner. Later in the evening was the Farewell Officers' Parade and Ball in Queens Room which started at 10 p.m., and the lead of the parade was the ship's first hostess, Maureen Ryan, and the tail end of it was the last hostess Michelle. The room was so packed, we could not even enter. All around the ship, every room was packed, casino as well. We went to the show in the Grand Lounge to a comedian who was very good - David Copperfield.
Today started with brilliant sun. There is no obvious increase in security that I have seen thus far. I spent some time yesterday with Maureen, who like many others, is happy that the ship is going to be saved from demolition. Met a 90-year-old lady who is from Arizona, lost her husband on this ship two years ago and who loves to dance. And all she could speak about during tea was the competition for dance hosts, the bickering between the women vying for attention, etc. The teas by the way have been jammed every day. If you don't get there by 3:30pm for tea at 4, you don't get a seat.
Tonight Mario and I are throwing a party for 40 in Board Room and all the key people are invited – Commodore Warwick, Capt McNaught, John Duffy, Andrew Nelder, Warren Smith, Thomas Quinones, Carol Marlow, Michael Gallagher, etc.
Today is the Farewell Thomas Heritage Trail tour; I wish I had a tape recorder for that one.
Dick
Ted - It is noon here which means 3 a.m. there. The past two weeks have flown by. I have not had a moment to sit down with a book. Between ports of call plus so many familiar faces, it has been a constant series of conversations with many and mostly, what do you think of the voyage, where are you going once you arrive in Dubai, where are you staying, and recently, how are you getting to your hotel. This last one is a cause of great stress to many as the ship keeps saying they are in meetings about it.
Of course, now that the end is less than 48 hours away, we are getting emotional and people all around us the same. I went to Thomas Quinones this a.m. and gave him a book of photos of the maiden voyage of the ship with an inscription. He completely broke down! This afternoon he is doing the final Heritage Trail.
Mario Pulice, who is travelling with us, has agreed to give his impressions of the voyage so you will have another take on it. So, here we go...
Hi All - Greetings from the QE2 on her final voyage to Dubai. It's all a wonderful experience, but obviously very bittersweet. Lots of festivities but a slight tinge of sadness then sets in. An emotional rollercoaster. Commodore Warwick is on board, which is a complete honor. I saw him day before last lying in a deck chair on Boat Deck. Such a joy seeing him experiencing his ship as a passenger. And finally, he is being rightfully acknowledged by the company and has been giving lectures in the theatre to full capacity.
He has a very positive attitude as to what QE2's future will be. And hopefully with his guidance, the Dubai Group will respect the ship. He talked the other day about looking forward to the day he can bring his granddaughter Beth to Dubai to see where he and her great grandfather worked as Commodore. Very poignant.
I wish I shared his optimism about the ship's future. Time will tell. That's all for now.
Best, Mario
OK Ted - We are off to lunch. Ship is testing engines, etc. in a few minutes so slowing down to 14 knots for a while. We dock at 1730 with fireworks scheduled for 6 p.m., and there is a slight chance the Royal Yacht (Dubai, UAE)) will escort us to the berth.
Dick
Wednesday, 26 November:

------------
From Jon Miller - Wednesday, 26 November aboard QE2 as she sails the Persian Gulf.
It is a warm, lazy day outside but it is also the final sea day of the final voyage of QE2. That being the case there is much to consider, much to do. We have alerted the concierge of our hotel in Dubai of our disembarkation tomorrow morning and they have arranged a car to transport us from the pier. However, Cunard has announced there will be no taxis allowed at the pier tomorrow. Does that also mean no limos, no town cars, no hummers? We don't know. So far, Cunard has arranged a bus to take us to the Mall of the Emirates where "taxis are available"
There are free bus transfers provided to 15 different hotels for those who have arranged their own hotel accommodations as we have done. Our hotel, the One & Only Royal Mirage, is not one of them however. But there will be taxis available at the Mall of the Emirates. Passports will not be returned to us. However, Cunard "kindly requests all guests to collect their passports: In the Midships Lobby on Deck 2 by the "D" Stairway At...21.00—23.00"
They say at about 2 PM local time (9 hours ahead of EST, 12 hours ahead of PST) we will start to see activity as we will be joined by HMS Lancaster, the Dubai Coastguard and Royal Yacht M.Y. Dubai. These will escort QE2 to Port Rashid, the final destination on the Final Voyage.
Along the way to Port Rashid however, we will sail around The World Islands development at which time the huge Emirates Airbus A380 super jumbo aircraft will conduct a number of flyovers to salute QE2's arrival. We will also be joined by a flotilla of several dozen local yachts at that time. On the decks, Cunard invites us to join them "on deck for a drink from 3:30pm—6pm (Beer, Wine or Bubbly)". At about 6pm a fireworks spectacular will take place.
Last evening, Dick Faber and Mario Pulice graciously hosted a party in the Board Room on the forward Boat Deck, port side. There were cocktails, sumptuous hors d'ouvres and delightful conversation with delightful people who all happened to be Ocean Liner and especially QE2 aficionados. These included Captain Ian McNaught, QE2's final Master; Commodore Ron Warwick (a former Master of QE2) whose father was QE2's 1st Master; and Carol Marlow, the current President of Cunard Line.
As he proposed a toast, Mario more or less kiddingly recommended we all storm the bridge, turn QE2 around and sail her somewhere far from Dubai. This drew a hearty laugh from the crowd after which a loud British voice proclaimed, "I can arrange that!" We all turned to see it was Captain McNaught who had made the wry comment (more or less kiddingly we thought). More hearty laughter.
Commodore Warwick spoke to us then. Perhaps no one knows more about QE2 or is more a part of her history than the Commodore. Much applause for the Commodore, here, here!
A sentimental gathering for sure but filled with good cheer. It will be a signature memory of the Final Voyage. Dick Faber introduced Paul Ritchie then, the singer for many, many years in the Queens Room. He sang for us his own song about being with good friends, then sang an old Vera Lynn WW2 standard "When We Meet Again". Everyone in the room, at least 50 people were crowded in, joined in the singing with Paul. It was here that more than a few of us got a little teary-eyed I think (as best I could make out through my own water-filled eyes).
Later in the evening, after another fine meal in the Caronia, my wife Janine and I saw our new friend, Marilyn, as we came down the "D" Stairway onto One Deck.
I had met Marilyn in the Queens Grill Lounge after our day in Lisbon earlier in the voyage. Not being a Grill passenger, I wasn't supposed to be there of course, but saw that it was empty and stepped in for a couple of photos. Afterward, I turned and realized the room wasn't as empty as I had thought for there was Marilyn, a Queen's Grill passenger, sitting just inside the door next to the Starboard windows. "Please forgive the intrusion. I thought the room was empty," I said. "It's not a problem. It's a lovely room don't you think."
She was a widow now but she and her husband had sailed many happy voyages aboard QE2 and she had kept up the practice after his passing because "It's a lovely way to live, isn't it," which was a statement, not a question, in her precise British accent."It absolutely is." "I've been onboard so many times I've lost count," she added. "At one time it was 55 voyages and that was a long time ago. She's become like an old friend, almost like a 2nd home. There's comfort in the beauty of it, the familiarity of it. I shall miss her greatly." As we saw Marilyn last evening, lingering with her back to us outside the Traveler's Cove shop on One Deck--peering first one way then the other--on the port side passageway, it seemed she was perhaps taking her own final tour accompanied only by her own fond memories on this Final Voyage of QE2. Jon Miller, aboard QE2 soon to arrive in Dubai.
-----------
From Dick Faber
Good morning Ted - We left off yesterday at noon. After that, we had Michel Perrin from Grenoble (France) with a lecture in the theater on Norway at Alang with sad photos of the scrapping and interiors as they were recently. Then the Final Heritage Trail with Thomas that went from 230 p.m. to nearly 5 p.m.
Our party in Board Room was attended by 45 people and the singer from the Queens Room, Paul Ritchie, sang at the end. The crew show in Grand Lounge at 8:30 & 10:30 drew a standing room only crowd.
We returned to the cabin to find a porcelain dish commemorating final voyage from Wedgwood. Very nice. And this morning we FINALLY got good news about disembarking. The ship has agreed to take us directly from the ship to our hotels. So Hank and I go off at 7:10 a.m. tomorrow and into a bus directly to Jumeirah Beach Hotel. We are there for two days and then home Saturday in the new Airbus 380. This plane from Emirates will do a flyover this afternoon, and there will be a flotilla leading us into the berth and the royal yacht is included. Will give you more info later.
Dick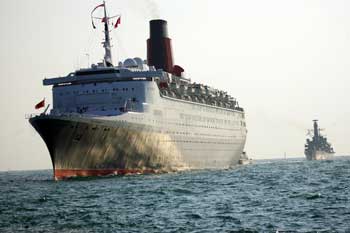 QE2 arriving in Dubai, 26 November, escorted by HMS Lancaster.
(Photograph courtesy of Khaleej Times)
Thursday, 27 November:

Ted - We leave the ship in two hours for last time. It is now 0530 on the 27th November.
Last night at midnight in a packed Queens Room, we all sang "Rule Britannia", then "Land Of Hope and Glory" and then...holding hands, we sang "Auld Lang Syne" - too emotional for words. I will fill you in with more from the hotel.
We docked last night at 1800 and the head of the Dubai Corp. and entourage boarded at 1820 direct to the Ward Room.
Ted - Now I can relax as it is all over. Very sad on leaving the ship early today and turning around to look back as the coach sped away. The sun was directly on the ship and she was aglow. Papers filled with stories on QE2 and I will bring them home for you to read. It all went as planned; the ship was turned over about two hours ago.
I saw Ron Warwick as we left. He was on Boat Deck waving us good-bye. All very sad but now it's behind us and we have wonderful memories.
Tomorrow I am going by taxi to Palm Jumeirah where QE2 will one day be based. Hot and sunny here. Return Saturday non-stop, 14 hours.
Happy Thanksgiving
Dick
Friday, 28 November:

Ted - We are in Dubai at Jumeirah Beach Hotel with Burj Al Arab a few hundred yards away. We visited that hotel this a.m. We had planned to tour the city today, our last day here but decided to hire a car for one last look at QE2. We used the hotel car with a very cheerful Indian driver and had no problem entering the port.
There was our beautiful ship which had been moved forward perhaps two ship lengths. I believe the reason was to be in position for cranes to hoist containers on board as we saw one on the after deck being loaded.
Many crew were disembarking and we mingled with them without any problems. The bow flag is now dark blue Nakheel flag and the same flag on mast - only those two flags plus of course the UAE flag on stern mast.
I spoke to one of the officers I recognized and he told me the ship is like a ghost ship. We stayed there sort of transfixed for a time and then left while looking back until the ship was out of view.
I have kept all articles from papers, and they wrote up the transfer yesterday. Home tomorrow and perhaps we will get one last glimpse from the plane window. When the Airbus took off this a.m. it made a terrific noise somewhat like Concorde.
Dick
Monday, December 1, 2008:

Ted, I do not know if you are continuing the blog but several bits would be of interest to viewers. Captain McNaught, John Duffy and many other officers and crew left the ship yesterday (Nov. 30). The shops have been completely dismantled as has the casino. The photo shop as well. The ship will remain where it is in Port Rashid until at least Christmas . No information as to plans after that.
Dick